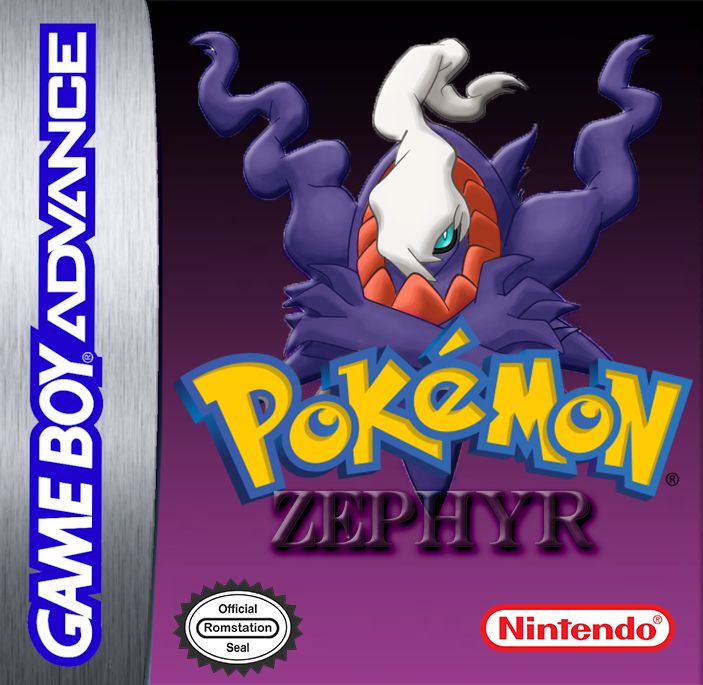 Console : Gameboy Advance
Language :

Genre : RPG
Multiplayer : 1 player
Year : 2008
Developer : Twilite Darkrai
Popularity : 1

Pokemon Zephyr is another Pokemon Hack that is based on Pokemon Fire Red. The first purpose to make this hack of Twilite Darkrai is just for fun but he received lots of cheers from the community. Pokemon Zephyr with its new changes brings out the special feelings for the players. If you want to know this feeling, get it and play.
The Astro region is a huge region in the world of Pokémon, and it is a neighbor of Hoenn. This region is very beautiful, with many forests, jungles, beaches, deserts, etc...
Year 2000 October, The police has discovered a new criminal band in the Hoenn region, the Dakko Team, the most cruel criminal organization ever known after the disbanding of Team Rocket. There are reports that this criminal band has expanded and moved into the Astro region. Their first goal is to catch the legendary Pokémon of the Astro Region: Darkrai. When this Pokémon is together with Palkia, Dialga and the legendary Twilight Gem, it has the power of controlling time and space, and the entire world. Only a legendary Pokémon Trainer can save humanity and all of the Pokémon, a trainer with enough courage and power...
Year 2001 February, Team Dakko has now built many headquarters in the Astro Region, as centres of investigation. They may be looking for Darkrai and other Pokémon.
Year 2001 June. Brendan/May has arrived from Kanto to Astro in a failed attempt to get his/her Pokémon from the very famous Professor Oak. Brendan/May are from Hoenn, but because of some weird incidents there, such as droughts and terrible thunderstorms, Brendan/May get their Pokémon from the Prof. Ahgoo, the most famous Professor in the Astro region. Then your adventure begins.
Features:
- New Region
- New Tiles and Sprites
- New Events
- Pokemon from Diamond/Pearl
Further information :
Version Alpha 1.1

Si votre jeu se fige sur un écran blanc au démarrage ou l'impossibilité de sauvegarder depuis le jeu, allez dans 'Options>Emulateur>Type de sauvegarde' et sélectionnez Flash 128K au lieu de Flash 64K.

Récupération de sauvegarde:
Depuis l'ancienne version: Faite CTRL+S pour créer la sauvegarde dans un dossier. (ci ce n'est déjà fait)
Depuis la nouvelle version: Faite CTRL+L pour charger la sauvegarde précédemment créée.

There are no images in this album yet
---
User Feedback