12
Dragon Ball Z: Team Training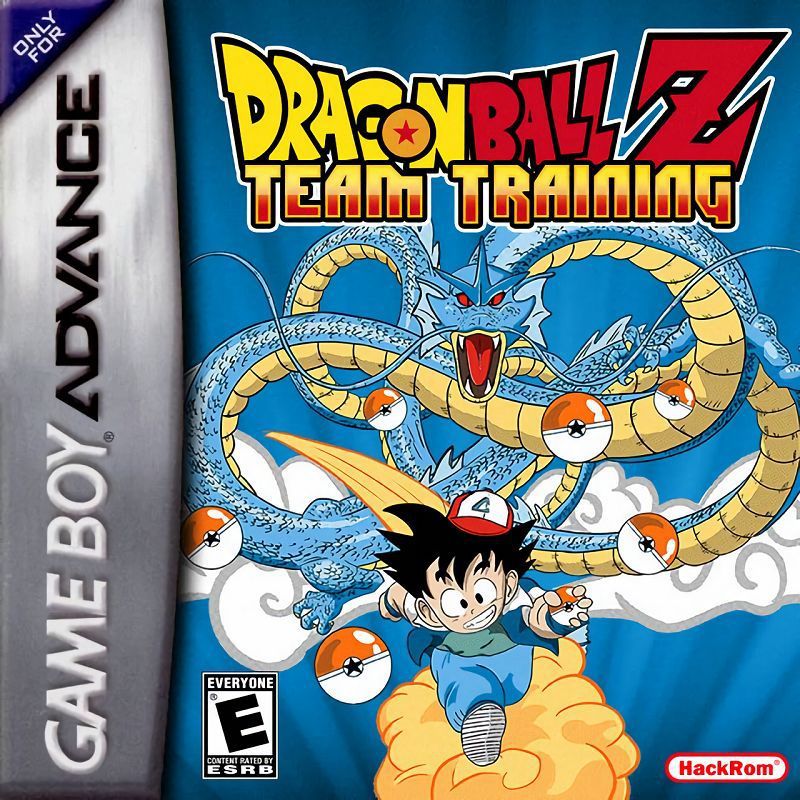 Console : Gameboy Advance
Language :

Genre : RPG
Multiplayer : 4 players
Year : 2015
Developer : Z-Max
Weekly games : 44

Hack Rom de Pokémon Rouge Feu qui remplace les Pokemon et dresseurs par des personnages issues de l'univers de Dragon Ball Z.
Nouveautés / Caractéristiques:
- Les pokémons sont remplacés par des "combattants" (165 au total).
- Il y a en tout 170 attaques (140 attaques de Dbz + 30 de Pokémon).
Il y a donc bien sur le Kamehameha et bien d'autres techniques.
- Certaines maps sont changées, certains overworld sprites également (personnages sur les maps).
- Les champions d'arènes sont également des personnages de DBZ. Vous pourrez combattre Yajirobe comme 1er champion par exemple.
- Plusieurs objets ont été ajoutés. Les capsules remplacent les pokéballs, les senzu permettent de soigner les combattants, le Scouter (detecteur) sert de pokédex...
Defauts / Erreurs:
- Jeu en anglais accessible sans scénario, l'intérêt du jeu étant dans le gameplay, les personnages, les graphismes.
- Faiblesses et avantages des types ne sont pas terribles donc beaucoup d'avantages ont été supprimés pour des raisons tactiques.
Le jeu ne serait pas jouable avec les relations types d'origine.
Mises à jour / Modifications majeurs:
Mise à jour V2:
- Nouvelle scène d'introduction: Ectoplasma et Nidorino ont été remplacés par Vegeta et Goku.
- 4 nouveaux personnages: Whis, Golden Freezer, SSGSS Goku (blue) et Baby Vegeta.
- Nouveaux sprites dans le ending: Dracaufeu, Florizarre, Tortank et Pikachu ont été changés par Majin Vegeta, Goku SSJ3, Gohan ultime et Gotenks SSJ3.
- Quelques sprites ont été modifiés.
- Beaucoup d'autres modifications légères ont été faites.
Mise à jour V3:
- 3 nouveaux personnages ont été ajoutés: Ssj Bardock, Golden Oosaru et Hit.
- Bardock évolue au niveau 25, Oosaru évolue au niveau 45 et Hit se trouve dans les ruines Tanoby au même endroit que Zarbi,
vous pouvez regarder les astuces de Pokemon Rouge Feu pour voir comment l'avoir car il faut d'abord résoudre une énigme à Tanoby Key.
- Ajout de shinys pour les 140 personnages, mais un shiny n'est qu'un sprite recolorié, il n'y a donc parfois pas de grand changement.
- Quelques noms de personnages et d'attaques ont été modifiés.
Mise à jour V4:
- 7 nouveaux personnages -> Zamasu, Merged Zamasu, Black, Black SSJ Rose, SSG Vegeta SSB Gohan et SSB Vegeto.
- Un nouvel item: la god stone qui permet de faire évoluer en super saiyan god. Zamasu et Black sont à Navel Rock.
- 10 sprites de personnages améliorés (vus de dos): Frieza, Vegeta, C-18, Gohan, Piccolo, Saibaman et Bojack.
- Les EVs (Effort Values) ont été changés. Ils étaient les mêmes que ceux des pokemons originaux avant.
- Nouveau design du vaisseau spatial saiyan au musée de Saiyan Realm, et des statues de dragon balls au manoir.
Mise à jour V5:
- 5 nouveaux personnages -> Frost (3 formes), Trunks SSJ Rage et Great Ape Baby.
- Nouvel objet: shell bell, permet d'appeler la tortue de Muten Roshi pour surfer. Cela vous dispense de la CS Surf, Aqua n'est donc plus indispensable. Vous devez toutefois avoir le badge de Babidi pour surfer.
- Le National Scouter est obtenu directement après la victoire contre la ligue, dr.brief vous le donne. Le National Scouter est nécessaire pour certaines évolutions comme Trunks SSJ Rage, Goku SSJ God et Gohan.
- Autres modifs: sprites améliorés de Burter et Pui Pui (de derrière), Gohan SSJ Blue (de face) et quelques petits changements.
Mise à jour V6:
- 14 nouveaux backgrounds pour les combats: plaines, forêt, namek, neige, rivière, rivière namek, pont, mer, montagnes, plage, île, babidi zone, grotte, grotte de glace
- 13 nouveaux perso: trio the dangers, dyspo, toppo jiren, ultra goku, buuhan, buutenks, luud, gt goku + ssj et ssj3
- Système de fusion: machine fusionnant 2 combattants, située à roshi's island
- 10 nouvelles attaques: ssb kaioken pour ssb goku et d'autres attaques pour les nouveaux combattants
- Indicateur d'EVs/IVs: le karateka à saiyan realm indique les EVs des combattants, et le namek à namek town indique les IVs.
- Tour dresseur changée: 4 modes de combat qui sont z, double z, gt et super.
- Vente de champis(tiny mushrooms): disponibles au stand sur l'ile 2 une fois la quête du rubis et du saphir terminée.
Mise à jour V7 :
- La musique de l'écran titre est remplacé par le générique de DBZ
- 9 nouveaux perso : MUI goku ;SSB2 vegeta ; kale ; caulifa ; cabba ; jimizu ; damon et kafla
Further information :
Patch Note for version 8 :

Checksave script: to avoid the super annoying problem of the save that doesn't let you keep playing after the league, a script forces you to solve the problem right from the beginning. If you can't save, you can't play. So, make sure to adjust the options of the emulator as explained in the Poke Community, Fandom and FB page.
New Fighters (20):
Dragon Ball Z (2): Future Gohan, SSJ Future Gohan
Dragon Ball Heroes (4): Base Cumber, SSJ Cumber, Ape Cumber, Golden Cooler.
DBS Broly (4): Broly Reboot, SSJ Broly R, LSSJ Broly R, SSB Gogeta.
Dragon Ball Super (10): Botamo, Magetta, Champa, Vados, Hakaishin Toppo, Limit Breaker Jiren, Daishinkan (Grand Priest), Zeno, Super Shenron, Commeson (Superhuman Water).
Locations of New Fighters:
Future Gohan with Time Machine (see info about Time Machine)
Cumber in Monean Chamber (Tanoby Ruins near Seven Island)
Golden Cooler is the evolution of Super Cooler at level 50
Broly Reboot on Route 6 after beating the league
SSB Gogeta is the evolution of SSJ Gogeta with a God Stone
Botamo and Magetta in Tanoby Chambers
Hakaishin Toppo is the evolution of Toppo at level 50
Limit Breaker Jiren is the evolution of Jiren at level 50
Champa, Vados, Daishinkan (Grand Minister), Super Shenron and Zeno in Null Realm (see info about Null Realm)
Commeson (SuperHuman Water) in Altering Cave (Outcast Island near Six Island)
Fighter Changes:
Dyspo, Toppo and Jiren roam in Liptoo Chamber (Seven Island) now.
Power nerf: Base stats and power of some attacks have been decreased. It's not a massive nerf, but the base stats of many DBS/GT fighters have been decreased, especially SSJ Gods and beyond, MUI, Beerus, Whis, etc, the total base stat never exceeds 700 now.
Power buff: Few fighters' base stats have been slightly increased too: Piccolo, Krillin, Yamcha, Tenshinhan, Raditz, ).
Moves don't have an excessive power like 250 now, the value doesn't go beyond 180 (except Explosion). Now "power levels" are not what you can expect, for example Whis is as strong as Super Saiyan Blue in terms of base stats.
2 power up for weak fighters: Grand Elder Guru can increase the stats of your fighter by increasing all IVs (Individual Values) to their max (31). Reserved to weak fighters (who have low base stats): Krillin, Yamcha, Tenshinhan, Chiaotzu, Saibaman, Bear Thief, Giran, Buyon, Eighter, Taopaipai, Drum, Tanbarin, King Piccolo, Nail, Slug, Kiwi, Zarbon, Zarbon 2, Dodoria, Guldo, Recoome, Jeice, Burter, Ginyu, Sauzer, Bioman, C-20, Zangya, Bujin, Yamu, Spopovich, Pui Pui, Yakon, Aqua.
Old Kai gives a big power up by increasing EVs to 255. Reserved to the same fighters as for Guru.
New "arc": After defeating/catching Whis, you can go to Null Realm and fight new enemies by traveling through the Cube of the Gods in Birth Island.
New event: After beating the league, you can fight Broly R (New Broly) on Route 6.
Time Machine: A machine in Capsule Corporation lets you evolve Kid Gohan or Teen Gohan into Future Gohan, and Trunks (Kid) into Future Trunks.
New Moves (4):
Disaster Claw
Disaster Ball
Hakai
Hakai Ball
Learnsets Changed (3):
Hakai Ball for Beerus
Supernova for Golden Frieza and Golden Cooler
God Kamehameha for MUI Goku.
Move Changes:
New effect for Makankosappo: charges and one-hit KO next turn, 50 accuracy points.
Evolution without National Scouter: it was required to evolve a fighter into a form above #151 (this number being the ID and not dex number), now the national scouter is not necessary.
Title screen infinite duration: it doesn't restart the intro battle scene after a few seconds anymore, you can now listen to the whole title screen music.
Leaders changed (to increase difficulty): Frieza 4 given to Muri, SSJ2 Gohan to Bulma, Buutenks to Satan, Gotenks SSJ and Buuhan to Roshi, Kid Buu and Hirudegarn to Pilaf.
Aesthetic Changes:
New title screen logo
Back Sprites Updated (5): Spopovich, Janemba, Super Janemba, Hirudegarn, Super Cooler
Hirudegarn overworld sprite changed
Mugshots (7): Jiren, Champa, Vados, Daishinkan, Zeno, Guru and Old Kai
Minor Changes:
Bug fixed for Shiny Piccolo
Growth rate for Teen Gohan and Kid Trunks groups (includes natural/level-up evolutions):
Teen Gohan: Fast (800,000) → Medium Slow (1,059,860)
Kid Trunks: Fast (800,000) → Medium-Fast (1,000,000)
SS Anne blocked after departure
Imperial Cave accessible right after the League
Roshi's Lab trade changed to Gogeta for Vegeto holding a Potara
Some names changed: Indigo Plateau → Dragon Plateau, Saibamen → Saibaman and Biomen → Bioman.
Known Bugs:
Player's colors are glitched when you get close to Zeno or Champa in Null Realm.
Makankosappo: says "No PP left" when there is actually one PP left, and animation is not played in the 1st turn when foe uses Telepathy.
Time Machine evolution doesn't update the scouter. Future Gohan and Future Trunks are not added to scouter data after attaining them by using the machine.
Credits:
Credits and version number given in the postsign of player's room.
---
User Feedback