11
Dragon Ball Z: Team Training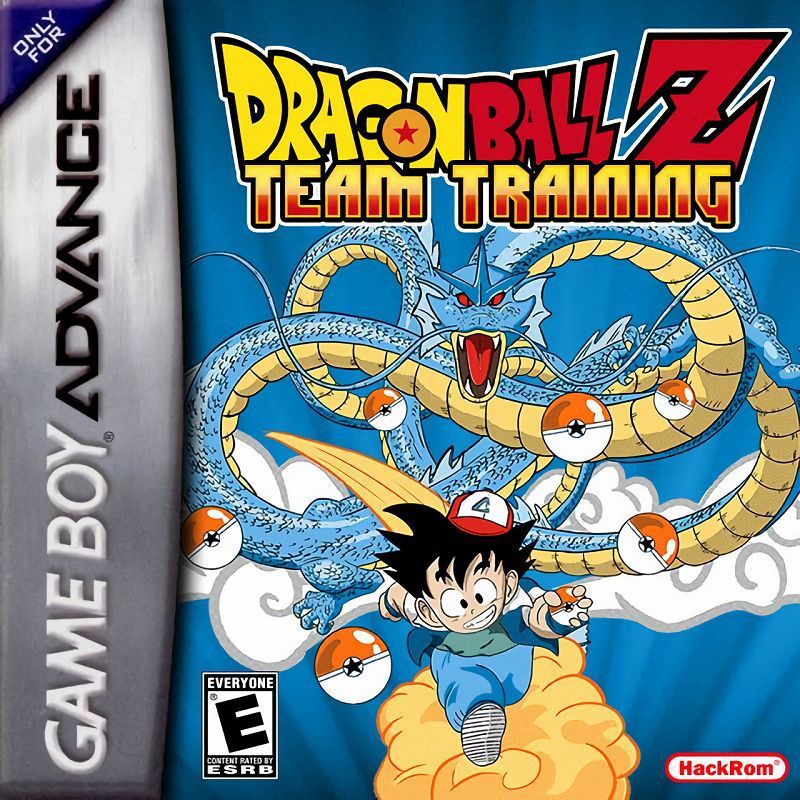 Console : Gameboy Advance
Language :

Genre : RPG
Multiplayer : 4 players
Year : 2015
Developer : Z-Max
Weekly games : 57

Dragon Ball Z Team Training is a Pokémon Fire Red rom hack that makes your game all the Dragon Ball epicness you could ever want. Basically, if you wanted to have a pet Goku to fight your enemies with in Pokémon, this is all of that and more. There are currently 180 Dragon Ball "fighters" (Pokémon) in the game, and the locations reflect places in the Dragon Ball world.
New features / Characteristics:
- Pokémon are replaced by "fighters" (165 in total).
- There are 170 attacks in total (140 DBZ attacks + 30 Pokémon attacks).
There is of course the Kamehameha and many other techniques.
- Some maps are changed, some overworld sprites too (characters on the maps).
- Arena champions are also DBZ characters. You will be able to fight Yajirobe as the 1st champion for example.
- Several items have been added. The capsules replace the pokéballs, the senzu allow to heal the fighters, the Scouter is used as pokédex...
Further information :
Patch Note for version 8 :

Checksave script: to avoid the super annoying problem of the save that doesn't let you keep playing after the league, a script forces you to solve the problem right from the beginning. If you can't save, you can't play. So, make sure to adjust the options of the emulator as explained in the Poke Community, Fandom and FB page.
New Fighters (20):
Dragon Ball Z (2): Future Gohan, SSJ Future Gohan
Dragon Ball Heroes (4): Base Cumber, SSJ Cumber, Ape Cumber, Golden Cooler.
DBS Broly (4): Broly Reboot, SSJ Broly R, LSSJ Broly R, SSB Gogeta.
Dragon Ball Super (10): Botamo, Magetta, Champa, Vados, Hakaishin Toppo, Limit Breaker Jiren, Daishinkan (Grand Priest), Zeno, Super Shenron, Commeson (Superhuman Water).
Locations of New Fighters:
Future Gohan with Time Machine (see info about Time Machine)
Cumber in Monean Chamber (Tanoby Ruins near Seven Island)
Golden Cooler is the evolution of Super Cooler at level 50
Broly Reboot on Route 6 after beating the league
SSB Gogeta is the evolution of SSJ Gogeta with a God Stone
Botamo and Magetta in Tanoby Chambers
Hakaishin Toppo is the evolution of Toppo at level 50
Limit Breaker Jiren is the evolution of Jiren at level 50
Champa, Vados, Daishinkan (Grand Minister), Super Shenron and Zeno in Null Realm (see info about Null Realm)
Commeson (SuperHuman Water) in Altering Cave (Outcast Island near Six Island)
Fighter Changes:
Dyspo, Toppo and Jiren roam in Liptoo Chamber (Seven Island) now.
Power nerf: Base stats and power of some attacks have been decreased. It's not a massive nerf, but the base stats of many DBS/GT fighters have been decreased, especially SSJ Gods and beyond, MUI, Beerus, Whis, etc, the total base stat never exceeds 700 now.
Power buff: Few fighters' base stats have been slightly increased too: Piccolo, Krillin, Yamcha, Tenshinhan, Raditz, ).
Moves don't have an excessive power like 250 now, the value doesn't go beyond 180 (except Explosion). Now "power levels" are not what you can expect, for example Whis is as strong as Super Saiyan Blue in terms of base stats.
2 power up for weak fighters: Grand Elder Guru can increase the stats of your fighter by increasing all IVs (Individual Values) to their max (31). Reserved to weak fighters (who have low base stats): Krillin, Yamcha, Tenshinhan, Chiaotzu, Saibaman, Bear Thief, Giran, Buyon, Eighter, Taopaipai, Drum, Tanbarin, King Piccolo, Nail, Slug, Kiwi, Zarbon, Zarbon 2, Dodoria, Guldo, Recoome, Jeice, Burter, Ginyu, Sauzer, Bioman, C-20, Zangya, Bujin, Yamu, Spopovich, Pui Pui, Yakon, Aqua.
Old Kai gives a big power up by increasing EVs to 255. Reserved to the same fighters as for Guru.
New "arc": After defeating/catching Whis, you can go to Null Realm and fight new enemies by traveling through the Cube of the Gods in Birth Island.
New event: After beating the league, you can fight Broly R (New Broly) on Route 6.
Time Machine: A machine in Capsule Corporation lets you evolve Kid Gohan or Teen Gohan into Future Gohan, and Trunks (Kid) into Future Trunks.
New Moves (4):
Disaster Claw
Disaster Ball
Hakai
Hakai Ball
Learnsets Changed (3):
Hakai Ball for Beerus
Supernova for Golden Frieza and Golden Cooler
God Kamehameha for MUI Goku.
Move Changes:
New effect for Makankosappo: charges and one-hit KO next turn, 50 accuracy points.
Evolution without National Scouter: it was required to evolve a fighter into a form above #151 (this number being the ID and not dex number), now the national scouter is not necessary.
Title screen infinite duration: it doesn't restart the intro battle scene after a few seconds anymore, you can now listen to the whole title screen music.
Leaders changed (to increase difficulty): Frieza 4 given to Muri, SSJ2 Gohan to Bulma, Buutenks to Satan, Gotenks SSJ and Buuhan to Roshi, Kid Buu and Hirudegarn to Pilaf.
Aesthetic Changes:
New title screen logo
Back Sprites Updated (5): Spopovich, Janemba, Super Janemba, Hirudegarn, Super Cooler
Hirudegarn overworld sprite changed
Mugshots (7): Jiren, Champa, Vados, Daishinkan, Zeno, Guru and Old Kai
Minor Changes:
Bug fixed for Shiny Piccolo
Growth rate for Teen Gohan and Kid Trunks groups (includes natural/level-up evolutions):
Teen Gohan: Fast (800,000) → Medium Slow (1,059,860)
Kid Trunks: Fast (800,000) → Medium-Fast (1,000,000)
SS Anne blocked after departure
Imperial Cave accessible right after the League
Roshi's Lab trade changed to Gogeta for Vegeto holding a Potara
Some names changed: Indigo Plateau → Dragon Plateau, Saibamen → Saibaman and Biomen → Bioman.
Known Bugs:
Player's colors are glitched when you get close to Zeno or Champa in Null Realm.
Makankosappo: says "No PP left" when there is actually one PP left, and animation is not played in the 1st turn when foe uses Telepathy.
Time Machine evolution doesn't update the scouter. Future Gohan and Future Trunks are not added to scouter data after attaining them by using the machine.
Credits:
Credits and version number given in the postsign of player's room.
---
User Feedback