19
Pokémon Unbound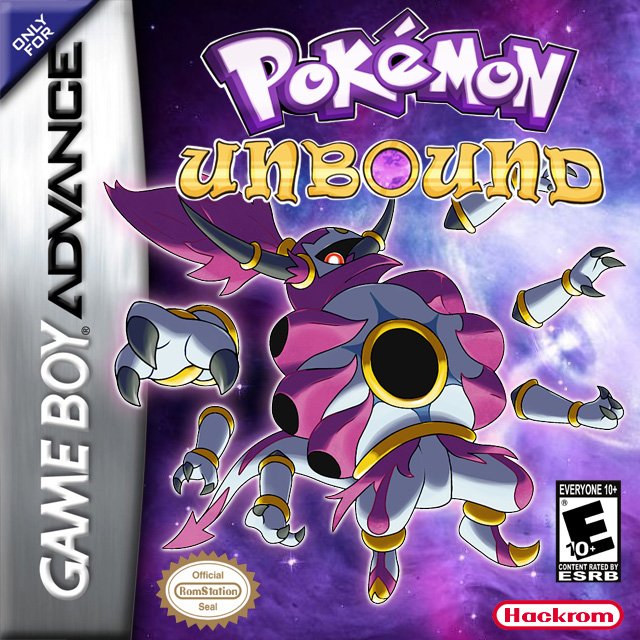 Console : Gameboy Advance
Language :

Genre : RPG
Multiplayer : 1 player
Year : 2016
Developer : Skeli
Weekly games : 84

Pokémon Unbound is a GBA Rom Hack by Skeli based on Pokémon Fire Red. There are now two fully-featured versions available:
-Pokemon Unbound: The first is the main game, a story-driven game with complex puzzles designed to test the limits of your patience and perseverance. Once you clear the main campaign, there is also a significant amount of post-game content to enjoy for weeks to come.
-Unbound Battle Frontier: The second, known as the Battle Frontier Demo, showcases Unbound's battle engine by granting unrestricted access to the Battle Frontier. This version was created in the format of a mobile game; meaning daily rewards, monthly distributions, and unlimited playtime. If you enjoy battling, then you'll find no shortage of things to do with the over 100 different possible battle combinations.
[Story]
Welcome to Borrius, a region rich with history. Centuries ago, the Borrian people were enveloped in a great war with a foreign land. When all seemed lost, the Borrian king summoned a powerful force to help turn the tide of battle. Unfortunately, the war ended in defeat when the king of the foreign land unleashed a devastating weapon. Disgruntled, the Borrian army returned home.
The people, now enraged against the Borrian king, attempted a coup by manipulating the dark force summoned during the war. The Borrian king was able to seal away its power, however, and the coup was thwarted.
Many years later, an organization known simply as the "Shadows" seems bent on releasing the dark force once again. Are they after the destruction of the Borrius region, or is there something else at play? It's up to you to stand in their way!
[Features]
★A Powerful Engine: custom battle engine on par with Gen 8
★Catch Pokémon from Gen 1 up to Gen 7 with moves and abilities from each of these generations!
★QOL Galore: quality-of-life features such as Unlimited Bag Space, Auto-Run, the DexNav, Daily Raids and much more!
★New HM System: simplified HMs system
★Updated Graphics: Sporting Gen 4 graphics in the overworld and Gen 5-esqe interfaces, in addition to a dynamic day and night system.
★Difficulty Modes: Choose from up to four different difficulty modes!
★A Unique Mission System: Pokemon Unbound contains over 80 unique Missions to complete! Mission progress can be tracked using the new Mission Log, in addition to extra details, such as which items have been found in collectathons!
★Character Customization: Choose from up to 300 different combinations of skin tones, hair colours, and outfit colours
★Daily Events: There are plenty of events all over Borrius, many of which can be experienced daily, and some can only be found at certain points in the day!
★Exciting Mini-Games: Play exciting mini-games such as Cloud Burst, Safari Sniper, and Underground Mining!
★Challenging Puzzles: Put your brain to the test, and find ways to solve many of the unique and complex puzzles littered throughout Borrius!
★A Custom OST: Enjoy over 180 original songs composed for Pokemon Unbound
★A Rich Post-Game: Spend hours after the main campaign battling in Pokemon Unbound's battle facilities, completing Missions, mining in the KBT Expressway, catching Legendary Pokemon, and so much more!
Further information :
Unbound (v2.1.1.1):
This is the completed version of Pokemon Unbound. Cube Corp.'s interior is still missing, but all Pokemon can be obtained one way or another, and all Missions can be completed.
Update: Hotfix for Rival battle crash.

Unbound Battle Frontier (demo v2.0.1):
This is a demo version that allows you to play exclusively in the Borrius region's Battle Frontier. It contains five battle facilities enjoy, as well as Raid Battles and a Safari Zone demo.
Update: Ring Challenge, New Key Items, Less Time-Based Events, and more.
---
User Feedback