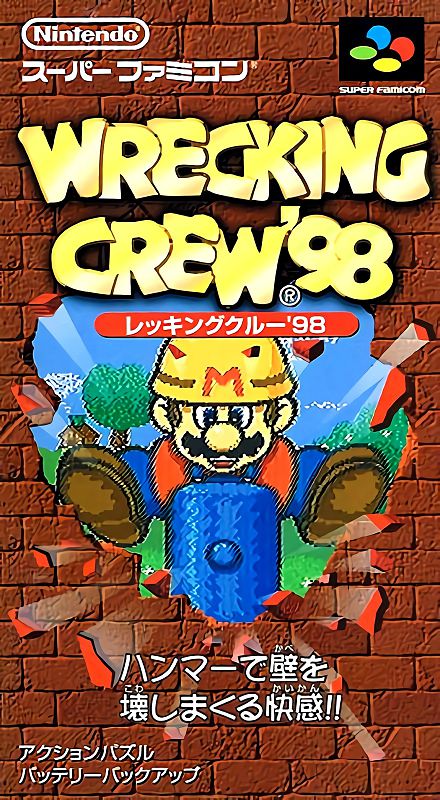 Console : Super Nintendo
Language :

Genre : Platformer - Puzzle game
Multiplayer : 2 players
Year : 1998
Developer : Pax Softonica
Publisher : Nintendo
Popularity : 1

Wrecking Crew '98 is the sequel to the 1985 NES/Famicom game Wrecking Crew. Bowser is constructing high-rises that are depriving the local plantlife of sunlight, and Mario decides to destroy the buildings in order to help. However, Bowser has recruited Mario's old construction boss and enemy Foreman Spike to prevent this from happening.

The two-player mode differs from the original's as two players play simultaneously against each other. The original Wrecking Crew is also available on the game as a bonus. Originally released as a download for the Nintendo Power cartridge, it was later given a standard cartridge release.
Further information :
Translation version 1.1

Translation team:

- ShadowOne333
- rainponcho
- DarkSamus993
- GHANMI
- TheMajinZenki
- Reichu
- Jorpho
- Nes Boy

Thanks to them.

Game files

Wrecking Crew '98 2019/09/23 872.38KB

There are no images in this album yet
---
User Feedback