209
Pokemon Emeraude FULL 2 (Lysor Extension)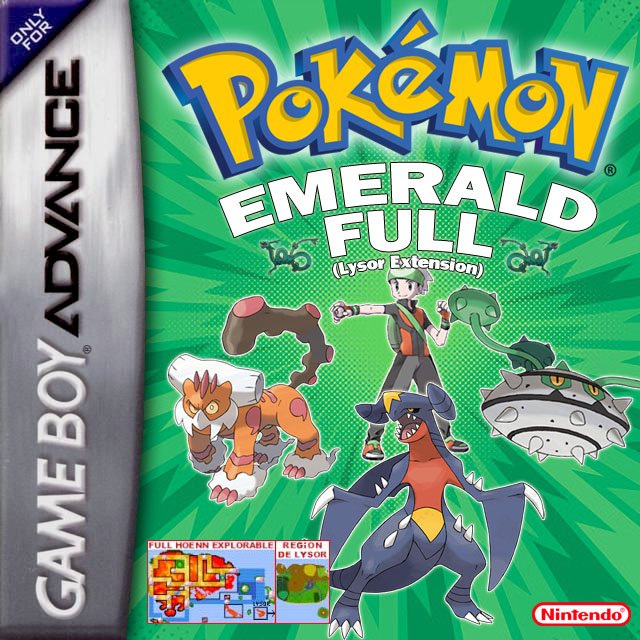 Console : Gameboy Advance
Language :

Multiplayer : 4 players
Year : 2020
Developer : Takylosaure
Weekly games : 1164

With this 2 games in 1 version, rediscover the Emerald version as you have never seen it before, come and visit the new region of LYSOR which is a second pokemon game in its own right, and come and rub shoulders with the best trainers in the World Championship Pokémon!
With its open world, the entire continent of Hoenn is now visitable and to scale unlike the original game which only offers marked paths and towns (more than 37 new maps just for Hoenn and counting only the large maps ).
My version being strategic, the 3 generations of origins have been replaced by a compilation of all generations of the best Pokémon used in strategy ranging from 1G to 7G on US-UL with emblematic strategic Pokémon such as Noacier, Heatran, or even Demeteros for a total of 169 new Pokémon (the Pokédex is based on the OVER-USED and the UNDER-USED of the strategic site Smogon).
I also of course improved the difficulty of the game while making it progressive so that regular Pokémon can have real difficulty, and newbies can get used to this new difficulty (although easy. at first the game becomes difficult from the 5th badge and the league is extreme).
On the new Hoenn maps, I added in the new locations trainers, items, but especially legendary Pokémon, 2 mini quests, and a big quest after the 8th badge.
Still concerning the places of Hoenn, I also made visitable the island to the left of the combat zone which is a wild island on which you can collect endless optimization items such as Super Candy or Enhancer for the combat zone. But also legendary Pokémon, powerful Pokémon like Dragonite, and the 11 Ultra Beasts from US-UL.
In addition to the modifications concerning Hoenn, I added a first small expansion with its own scenario (about 2 hours of play) taking place on 2 small islands and which will serve as a prelude to the big expansion taking place in LYSOR.
But that's not all ! Because to this small expansion I have now added my real full-fledged Pokémon game by creating the new region of LYSOR (about 10 hours of playtime or more) containing its own story and main quest, but also its own arena system and side quests. No sooner will you have finished the adventure of POKéMON Emeraude by arriving in front of the league that you will start a whole new adventure in this new region in connection with the Stone and the Devon SARL.
And To finish and close my version, I added in post-game a kind of Mega League reserved for Levels 100 called "Pokémon World Championship". You will be able to qualify for the World Championship once you have validated the Combat Zone. This extremely difficult Championship reserved for Pokémon strategists absolutely requires optimizing the Evs of these Pokémon to succeed! If you pass this last final test you will earn special rewards worthy of the best trainer (including a Cheated Fakemon)!
PS: I did not touch the scenario of the original Emerald version so as not to distort the work done by Game Freak.
I also made quite a few minor changes like making islands accessible to fabulous Pokémon like Deoxys, added the Day / Night system, added some new attacks, being able to learn endlessly the attacks of ability masters, sellers of CT, etc ....
Further information :
The 4 main characteristics of my game are as follows:
- Full Hoenn visitable, that is to say that all the non-existent regions in Hoenn of the original version were created by me in order to make the whole region visitable
- A second pokemon game is integrated into the Emerald version and takes place in a whole new region named Lysor (which is half the total size of Hoenn after modifying it). This new region includes a main quest, an arena system, side quests and legendaries.
- The game's pokémons are a compilation of the best pokémons between 1G and 7G and the fights have progressive difficulty ranging from easy at the start to very difficult in the league and are based on the strategy of the Smogon site in 7G
- Addition in post game (just after the Combat Zone) of a hardcore difficulty world championship that only the best strategists will be able to succeed (difficulty similar to the multiplayer of real pokemon games)

Patchnote for version V4.5:

- Added a very last quest in LYSOR that can give rare and powerful pokémons
- Addition of 3 objects in LYSOR
- Fixed trainers always wanting to fight

Patchnote for version V4.6:

- Update of the Spe attack of Farfuret by copying it on his attack stat in order to allow him to effectively use the ice and dark attacks
- Fixed the bug where DIALGA does not appear on island 3
- Fixed a bug of character change at HOLIDAY CAMP + all other at-risk NPCs regarding this same bug (but which did not cause it to my knowledge)
- Some micro updates of the cards by removing the rare remaining graphic bugs
- Implementation of the possibility of using FLIGHT on the island of my first expansion if ever a player encounters a random bug preventing him from leaving this island.
- Addition in the game files of a walkthrough for the quest for the keys

There are no images in this album yet
---
User Feedback