Pokemon Quetzal Multiplayer
---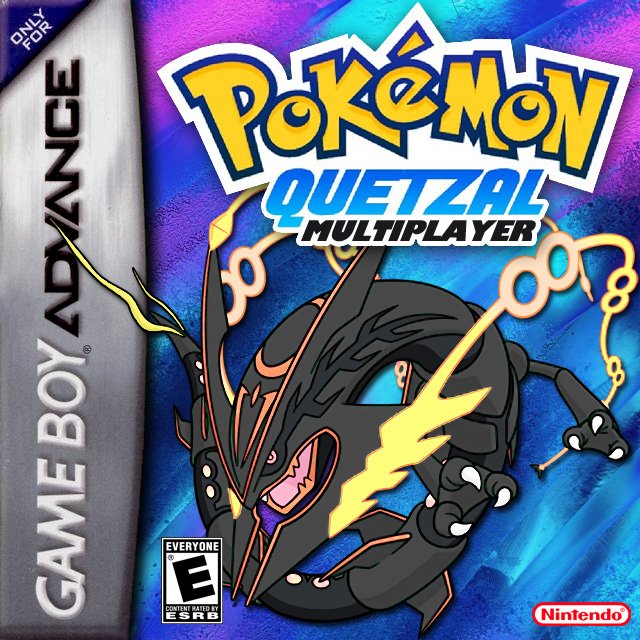 Pokémon Quetzal Multiplayer (formerly called Pokemon Emerald Multiplayer), is a GBA hack rom programmed by Tenma.
Epic COOP multiplayer system:
-For 1 to 4 players
-You can see the other person moving in the environment
-You can fight (single, double, multiple) from anywhere with MEGAS and MOVES Z
-You can fight with another person against other trainers in the game (for example against Champions)
-You can trade from anywhere.
Features:
-Takes place in the Hoenn region (it's the same story, at least for now)
-Capturable Pokémon up to 9 gen (including alola, galarian and hisui form)
-The battle system is updated to 9th gen
-All items up to 8 gen
-It has megas and Z moves
-You can choose from 72 different heroes
-From 0 to 6 Pokémon can follow you (only one in multi)
-Wild Pokémon appear everywhere on the map (can be disabled)
-The game has space for over 2000 Pokémon on PC (67 boxes, 30 Pokémon each box)
-Practically infinite bag
-The boarding system is completely renovated (up to 6 Pkm from the PC)
You have a dedicated box for 30 eggs (they hatch remotely)
-You can capture ALL the Pokémon, from Bulbasaur to Oglerpon (except for Arceus)
-You can choose between more than 70 starters
-All Pokémon have 3 different shiny forms (Radiant Pokémon)
-The game has rematchers so you can fight as many times as you want against the trainers in the game
-The game has a move tutoring system from the team menu where you can teach new attacks conveniently
-Reappearance system for items and berries
-HM are not required
-Different game modes (normal, random, cheats)
-Difficulty levels (very easy, easy, normal, difficult, very difficult)
-You can select the probability of shiny (very low, low, normal, high, very high, always).
There are no images in this album yet
Alternative versions
In the same series
User Feedback