Nintendo Puzzle Collection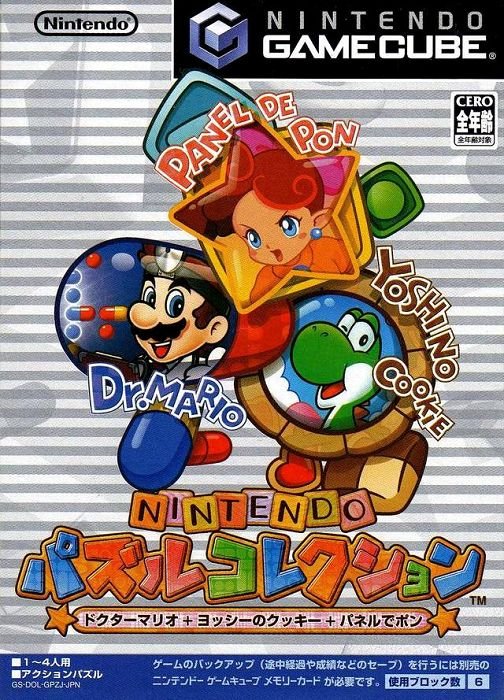 Console : GameCube
Language :

Genre : Compilation - Puzzle
Multiplayer : 4 players
Year : 2003
Developer : Intelligent Systems
Publisher : Nintendo
Weekly games : 3

This Japanese exclusive collection includes three puzzle games:

Dr. Mario 64
Panel De Pon 64 (a cancelled N64 game that was reskinned and released as Pokémon Puzzle League
A reworked version of Yoshi's Cookie

The games have been ported from older systems and enhanced with additional modes and support for four-player games. In Dr. Mario and Panel De Pon multiplayer games, players who die can play a singleplayer game until the game is completely over.

The Game Boy Advance can be used as an additional controller and the games can also be downloaded to the handheld as single player versions. The handheld versions of Dr. Mario and Yoshi's Cookie are the NES versions while the Panel De Pon game is an original creation.
Further information :
/!\ This is a translation of Panel de Pon, the other games are not translated /!\

Thanks to Kafke for this english translation.

https://www.reddit.com/r/PanelDePon/comments/5pl8a8/comment/ddmyhzn/?utm_source=reddit&utm_medium=web2x&context=3

There are no images in this album yet
---
User Feedback