Super Mario Bros. / Tetris / Nintendo World Cup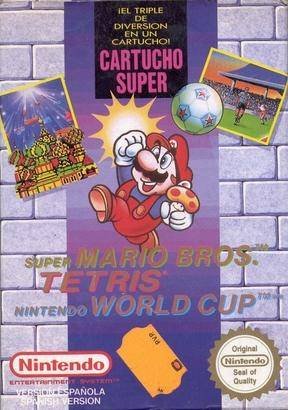 Console : NES
Language :

Genre : Compilation
Multiplayer : 4 players
Year : 1992
Developer : Nintendo
Publisher : Nintendo
SUPER MARIO BROS.
Do you have what it takes to save the Mushroom Princess?

You'll have to think fast and move even faster to complete this quest! The Mushroom Princess is being held captive by the evil Koopa tribe of turtles. It's up to you to rescue her from the clutches of the Koopa King before time runs out. But it won't be easy. To get to the princess, you'll have to climb mountains, cross seas, avoid bottomless pits, fight off turtle soldiers and a host of black magic traps that only a Koopa King can devise. It's another non-stop adventure from the SUPER MARIO BROS.!

TETRIS
Your pulse quickens. Beams, boxes, zig-zags and "L" shaped building blocks drop relentlessly down a narrow passage. You quickly spin, shift, and align the shapes then slide them in for a perfect fit. It's challenging and the pace is demanding. But satisfaction comes as you position each block neatly into place. Start at new heights for a tougher contest. Pick the music and set your pace from 20 progressive skill levels.

NINTENDO WORLD CUP
The eyes of the world are upon you. National pride is at stake. Only seconds left and the crowd rises in anticipation of the greatest upset in soccer history. The horn sounds and you've won it all! The coveted world cup trophy is yours! Pick your team and plan your game strategy. Use advanced super moves like the Bicycle Kick or the Super Header. Choose from 13 teams, representing countries from around the world. Defeat your opponents and you're on your way to the prestigious world cup final. Bring the excitement of international soccer home with Nintendo World Cup!
There are no images in this album yet
---
User Feedback