1
Tales of Hearts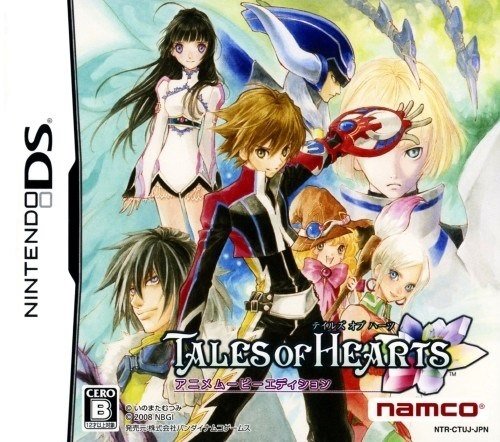 Console : Nintendo DS
Language :

Multiplayer : 1 player
Year : 2008
Developer : Namco Tales Studio
Publisher : Bandai Namco Games
Tales of Hearts is the 11th main game in the Tales of series and follows the story of Sing Meteorite and Kohaku Hearts. The setting takes place on a planet with two moons, on a peaceful continent united and ruled by Maximus Empire. But in recent years, a mysterious illness known as "despir" started plaguing the residents. Organic weapons known as "xeroms" are attacking people's "spirias", essences of human emotions. But there is a way to fight xeroms, and that is with "soma" mystery armor which has the ability to hide spiria link.

Sing, the protagonist, is just an ordinary boy who lives in a remote village, who is due to meet Kohaku, the heroine, who is attacked by xerom. And thus, their grand adventure begins. The game is a fantasy RPG that doesn't deviates from other games in the series much, the player can have several party members, equip weapons, utilize various attacks, talk to other NPCs, and level us by defeating various enemies. During exploration the game uses bird's perspective with 3D graphics, though fights use side-scrolling platform perspective with 2D graphics.

This Nintendo DS game version is exclusive to Japanese marketplace, and comes in two different release versions:

-Tales of Hearts (Anime Movie Edition)
-Tales of Hearts (CG Movie Edition)

The games are identical with exception that all cinematics in one game are 2D anime style, while the other version uses CG pre-rendered style.
There are no images in this album yet
---
User Feedback