7 Grand Dad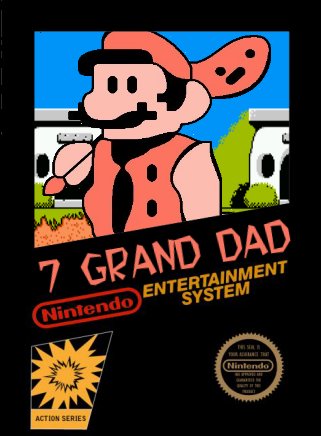 Console : NES
Language :

Genre : Platformer
Multiplayer : 1 player
Year : 1992
Developer : Hummer Team
Publisher : J.Y Company
Weekly games : 3

7 Grand Dad is a Mario-themed bootleg of the 1991 NES game The Flintstones: The Rescue of Dino and Hoppy. It was most likely created by the Taiwanese bootleg publisher J.Y. Company in 1992.
There are very few differences between the two games. The most notable difference is the title screen, which is completely changed. The only parts that remain from the original title screen are the blue background, the salmon font color of the game title, a flashing white text saying "PUSH START BUTTON !", and a picture of Fred Flintstone in a gold star (which was originally a part of the Hanna Barbera Super Stars logo). The title screen music, a remix of "Meet the Flintstones", stays the same as well. The rest is completely changed. The title and logo are replaced with a large salmon "7", a picture of a bootleg Mario recolor (later nicknamed Grand Dad) with the character's head overlaid by the Fred Flintstone star, and a salmon "GRAND DAD" in a curious square-ish font. The credits at the bottom of the screen are replaced with white text saying "1992 1". The "1", commonly mistaken to be a bootlegger's nickname, is in fact a level select which can be used by pressing the "Select" button, which causes the number to go up (until 5). This level select was implemented by the bootleggers and wasn't featured in the original game.
There are no images in this album yet
---
User Feedback