Install and manage your games directly from the RomStation application.
Winnie l'Ourson : À la recherche des souvenirs oubliés
---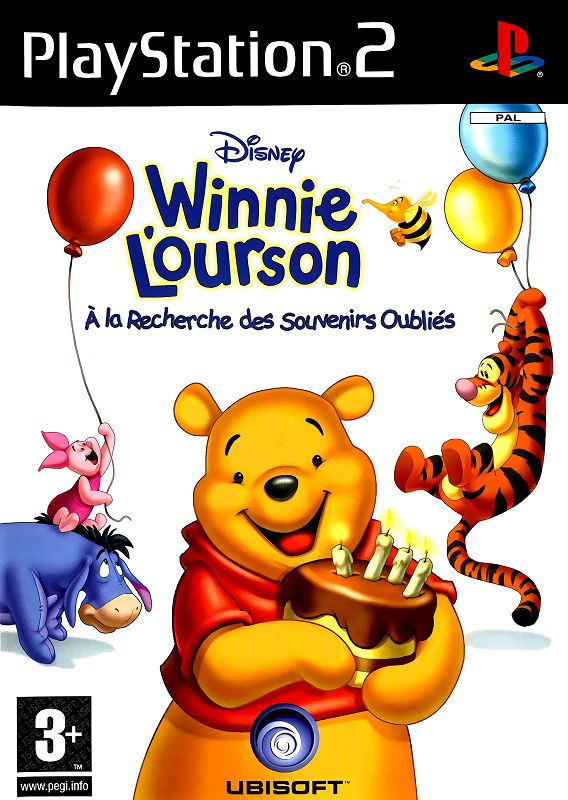 Genre : Action - Platformer
Multiplayer : 2 players
Year : 2005
Developer : Phoenix Games Studio
Publisher : Ubisoft
Weekly games : 1

While taking a walk with his friend Christopher Robin, Pooh's tummy gave out a great rumble. Looks like Pooh's hungry. Christopher suggests that he think of something else...something happy to forget about his hunger. Pooh decide to recall his friends' birthdays - which are the happiest of times.

In Winnie the Pooh's Rumbly Tumbly Adventure, join Pooh and his friends in Hundred Acre Woods on three different types of games:

Birthday Scrapbook Adventure Mode: Pooh flips through his birthday scrapbook and re-live 5 different birthday adventures. Each adventure consists of tasks and problems Pooh has to help solve in order to ensure his friends have the best birthday ever.

Pooh can interact with many different elements around him. For example, if there's a box blocking his way, have Pooh push it away. Gopher is always near by to pop up and give Pooh tips on what he has to to do and how to do it. Pooh will also have to talk to other characters to complete his tasks. For example, in Piglet's Birthday, you will have to find Kenga and borrow her broom for Piglet. Some tasks will require the help of Pooh's friends. For instance, you will have to help Roo collect butterflies for Piglet's birthday by climbing on Eeyore's back and running after the butterflies.

Every now and then Pooh will be confronted by Heffalumps and Woozles. Avoid being touched by them because that will cause you to have to start that segment all over. The only way to get rid of them is by popping a balloon...but don't worry, there is always one near by.

Junior Mode: a place for younger players to interactive with Pooh and his friends in Hundred Acre Woods. See what happens when Pooh approaches a hive or play as Tigger as he spins around.

Multiplayer Mini-Game:Play as Pooh, Roo, Tigger or Piglet in 6 mini-games on your own or with a friend!:

Cookie Maze - Grab as many cookies as possible while avoiding the Heffalumps and Woozles.

Catching the Honey Pot - Try to catch as many honey pots as possible before time runs out.

Find the Cookies - Look around and find the hidden cookies. You will have to find a required number of cookies before time runs out!

The Scare-Off - Play as Pooh or Piglet and try to make a scary face that will scare the other by pressing the correct button shown on the screen.

Follow the Line - Trace the line around a path without getting out of the line as quickly as possible before time runs out.
There are no images in this album yet
Related videos
Alternative versions
In the same series
User Feedback