Les Aventures de Porcinet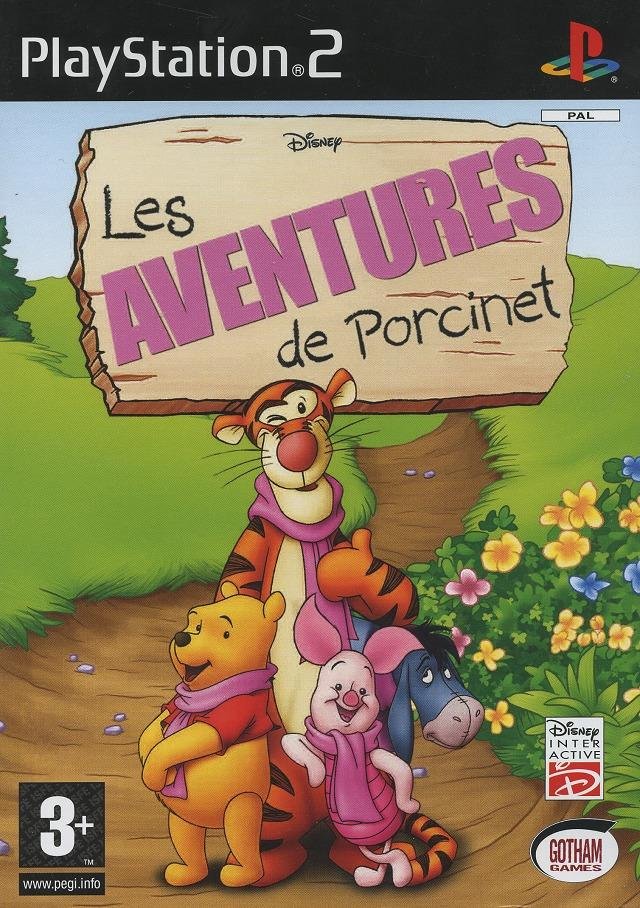 Console : Playstation 2
Language :

Genre : Adventure
Multiplayer : 1 player
Year : 2003
Developer : Doki Denki Studios
Publisher : Disney Interactive
Piglet is Christopher Robin's shy and squeamish friend in the children's Winnie the Pooh stories. Also loosely based on Piglet's Big Movie, this version of Piglet's Big Game has a different story and objectives than the PC/Mac version released separately. Each character is voiced by the original actors from the movie. This is a single player adventure game with action elements.
In the Hundred-Acre-Wood, Pooh, Eeyore, Roo, Owl, Rabbit and Tigger are going about their normal activities when Piglet sees a scary Granosorus, which disappears before anyone else can see it. When Piglet tries to warn his friends, they don't believe him. Christopher Robin tells Piglet to overcome his fears, but Piglet thinks that he will never be big and brave enough. As his friends start to fall asleep, Piglet leaves the woods and finds a magical telescope which allows him to jump into the dreams his friends are having during their naps.
In each of the 6 dream "levels", Piglet must help his friends with problems and puzzles. For example, help Pooh find honey or Tigger find his stripes. Each dreamworld is also dangerous with menacing Heffalumps and Woozles, among other scary monsters. Piglet must defeat these monsters with a tactic he knows well - making scary faces. Some monsters aren't frightened enough, though, so use cookies (hidden in the scenery) to buy some scarier ones at the Brave Face Factory. Find and use Christopher Robin's balloon which gives Piglet a morale boost and a burst of speed. Depending upon the scenario, three characters can be controlled: Piglet, Tigger and Winnie the Pooh.
After the 6 nightmare levels are solved, Piglet will face the real Granosorus from the beginning of the game and become a hero by rescuing his friends.
There are no images in this album yet
---
User Feedback