Taiko no Tatsujin DS: Dororon! Youkai Daikessen!!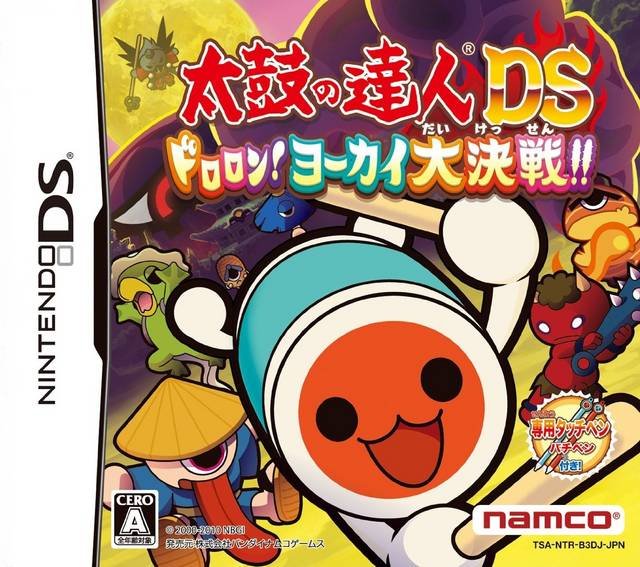 Console : Nintendo DS
Language :

Genre : Music
Multiplayer : 4 players
Year : 2010
Developer : Bandai Namco Games
Publisher : Bandai Namco Games
Weekly games : 1

One night while the sky has the full moon, Don and Katsu were standing outside of their house, watching the beautiful view of the night sky, Suddenly, Don heard some creepy crying voice, and he ask Katsu if it is his voice, but Katsu said he did not say anything. Don think he must be misheard. Then, the voice was heard again, this time both Don and Katsu heard it and are freaking out, and it was from inside the house. Once they were inside, they saw the ghost of a raccoon-human girl. Said ghost said something like 'Father, where are you?' while crying, and Don wonder if she was lost. Then she disappeared, and suddenly the door beside Don and Katsu opened up, revealing a portal and the Taiko duo were being pull into it. When Don come out of the portal, he found himself alone in the forest of the Iga village in the Edo period of Japan. There, he saw the same raccoon-human girl, named Ponko, was going to searching her father on her own but the old ninja Master won't let her do so because the yokais are targeting her. Don interrupt by asking Ponko if she is the same girl he saw before, but Master mistaken Don for a yokai and have a taiko battle against Don, with Don comes out as a winner. Master apologize to Don for mistaking him for a yokai, but then a yokai (a flame wheel yokai) appear and saw the leaf hair ornaments on Ponko's hair, thinking that she is Yokai demon king's daughter. But when he tries to get her, he can't stop himself flying, resulting in getting himself out of village with empty handed. Once in the house of the village, Master ask Don if he can defeats the yokais across Japan. Don agreed, but just then Ponko ask Master if she can comes with Don so she can searching her father's whereabouts. After a thought, Master agree. And so the epic journey begins...
There are no images in this album yet
---
User Feedback