Taiko no Tatsujin Wii: Ketteiban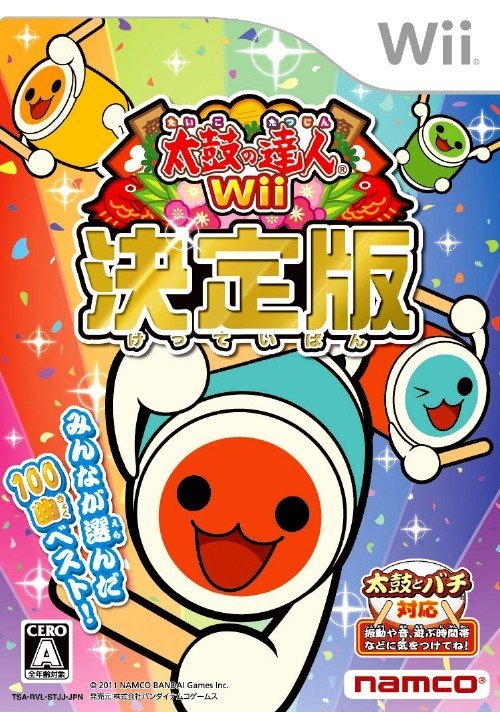 Console : Wii
Language :

Genre : Music
Multiplayer : 4 players
Year : 2011
Developer : Bandai Namco
Publisher : Bandai Namco
Weekly games : 2

The 4th Wii Taiko game and Namco's 7th big surprise for Taiko's 10th anniversary. The title 'Kettei-Ban' means 'definitive version', and Wii 4 sure lives up to its name, with hands-down the most massive songlist ever on a console Taiko barring downloads; 100 songs! And like in the previous version, the big number on the front of the box isn't all that's in the disc, there are actually 105 songs (106 if Kita200 is included) and 16 Ura difficulties, the most there has ever been on any console Taiko. A portion of the songlist are old songs chosen by players as their most memorable songs and included in the game by Namco, together with several 'greatest Wii hits' where the best songs from Wii 1, 2 and 3 culminate in this giant, volumetric package together with the bundle of new songs and console firsts.
Although not widely advertised prior to launch there is a Story Mode in the game, which is a replacement to the Taiko Dojo but works the same way; complete challenges and songs under certain conditions, while the story plays out through dialogue boxes for simply playing through regular mode. 4-way local multiplayer is a returning feature, and the songlist isn't the only thing approaching triple-digits, Don-chan now has a giant wardrobe to match, with 100 costumes as well! The special 'Tsumamikui Ensou (つまみ食い演奏)' mode from Taiko Portable 2 makes its return here, and using this mode players will be able to replay through any portion of any song they like for practice, including all forked paths.
Taiko Wii 4 has one foot in the past and one in the present. Although released after the arcade remake Taiko 0, Ketteiban maintains the 2nd GUI used by Taiko 14 and the scoring and difficulty rating system is also the old one as well, which would make Wii 4 the last Taiko game to use the old format before the complete shift to the next graphics engine, and through the songlist is a glorious representation of everything that made Taiko so great over the past 10 years.
There are no images in this album yet
---
User Feedback