Taiko no Tatsujin Wii: Dodoon to 2 Daime!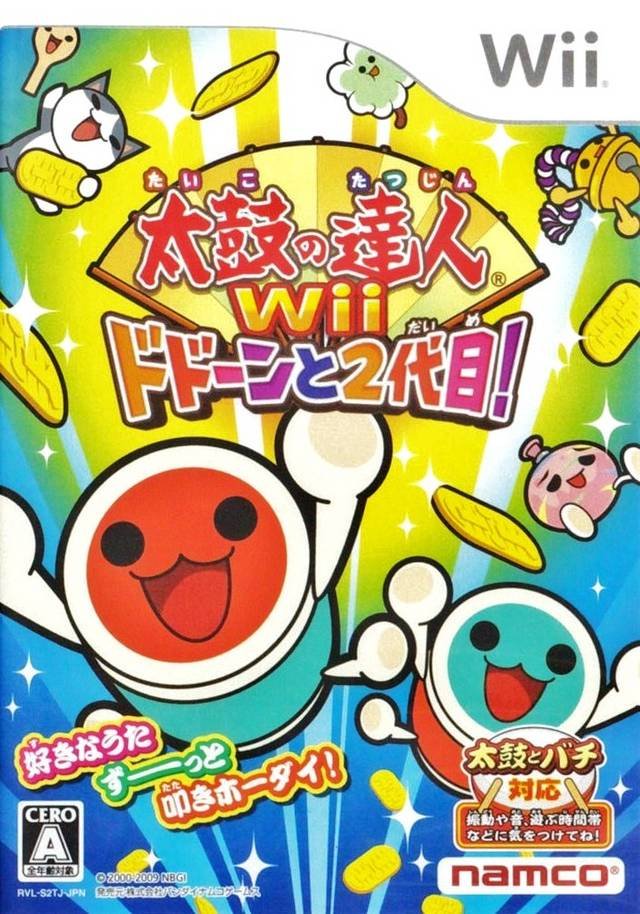 Console : Wii
Language :

Genre : Music
Multiplayer : 1 player
Year : 2009
Developer : Namco Bandai
Publisher : Namco Bandai
Taiko no Tatsujin Wii: Do-Don to Nidaime! is the second Taiko no Tatsujin game on the Nintendo Wii. It was released on November 19, 2009.
Unlike the previous games, it comes in two retail package: one with the game itself and one that bundled with the TaTaCon controller.
The gameplay is largely the same as the previous installment, but for the first time in the Taiko no Tatsujin series for video game consoles, it includes the Ura Oni tracks for certain songs.
The story mode's boss battle is similar to the battle gameplay from Taiko no Tatsujin DS: Dororon! Yokai Great Decisive Battle!. The story progresses each time as the player fills up the Tamashii gauge to bring back Alumi's memories.
One night, Don and Katsu came across a broken robot while walking around the festival. The Taiko duo decided to bring it to the Municipal Wadaiko Laboratory to see if it could be fixed.
With the help of the Taiko power from the Taiko duo, the robot is fixed and awake. The robot, now known as Alumi, doesn't remember anything except her name. Hearing this, Don and Katsu promise to help her recover her memories.
Just then, Mecha-Don, who has wounds over his body, crashes into the laboratory out of nowhere! Mecha-Don explains that he was attacked by something that is ruining the festival. Turning on the security camera, Don and his co. see the horrible sight of something ruining the festival.
Can Don and his co. protect the ongoing festival from being attacked? Will Alumi get her memories back?
There are no images in this album yet
---
User Feedback