2
Sega Rally Championship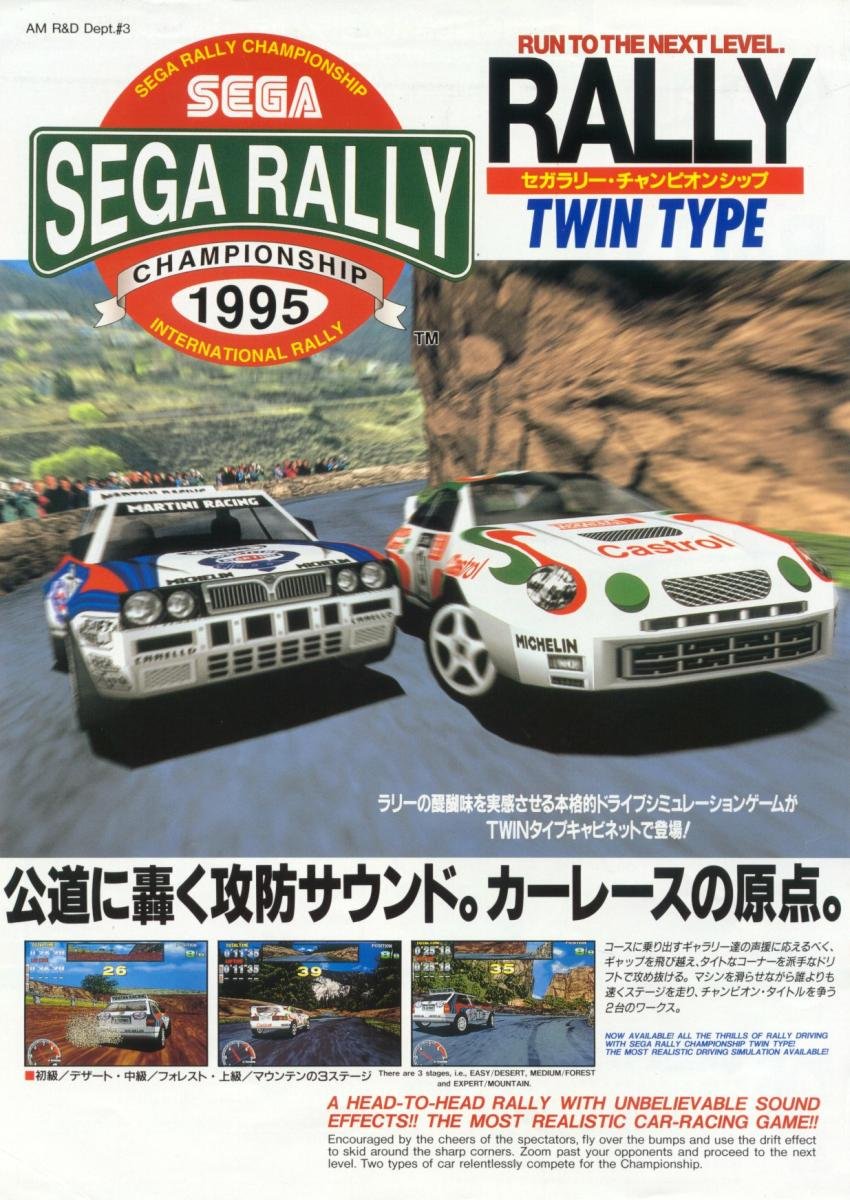 Console : Model 2
Genre : Racing
Multiplayer : 2 players
Year : 1995
Developer : Sega
Publisher : Sega
Weekly games : 6

Sega Rally is an off-road racing game, in which players drive rally cars across one of four tracks as quickly as possible. Like prior Sega arcade racing games, Sega Rally enforces a strict time limit and a checkpoint system - success is measured by how fast the player can navigate the three standard tracks before either crossing the final finish line or retiring due to the timer running out.
As a rally game, Sega Rally has no concept of "laps" (in the arcade version at least) - each track is treated as a linear journey from a defined beginning to a defined end (although in reality, all tracks are circular, so the beginning is the end). There are computer players which need to be avoided, with the overall aim of finishing in first place at the end of third course. The positions are carried through to each track, so if a user finishes in 10th on the first track, he or she will start in 10th place on the second. Opponent cars are not covered by the same strict rules - they exist solely to provide an extra layer of challenge to the game.
Sega Rally is notable for being the first racing game to allow players to drive on different surfaces, including including asphalt, gravel and mud. Each surface has different friction properties which adjust the car's handling accordingly. Prior to Sega Rally's release, racing games often took a more simplified approach to differing surface types - grass for example might simply reduce the top speed of the car, not affect handling, leading to unrealistic results. These features allow Sega Rally to stand out as a true "rally" game, a sport very much dictated by road surfaces, rather than a generic racing game with rally-esque settings.
To add to the simulation in an arcade environment, the sit-down versions of Sega Rally use two motion devices (versus the one seen in Daytona USA), and the seat is vibrated by sound waves.
As is standard for rallying, an unseen co-driver issues instructions for the road ahead, although it would not be until Sega Rally 2 when distances would be mentioned. The computer controlled AI cars are not as aggressive as seen in Daytona USA - they instead aim to take the best possible racing line at all times to deny the player of valuable seconds.
There are no images in this album yet
---
User Feedback