Doki Doki Mario 64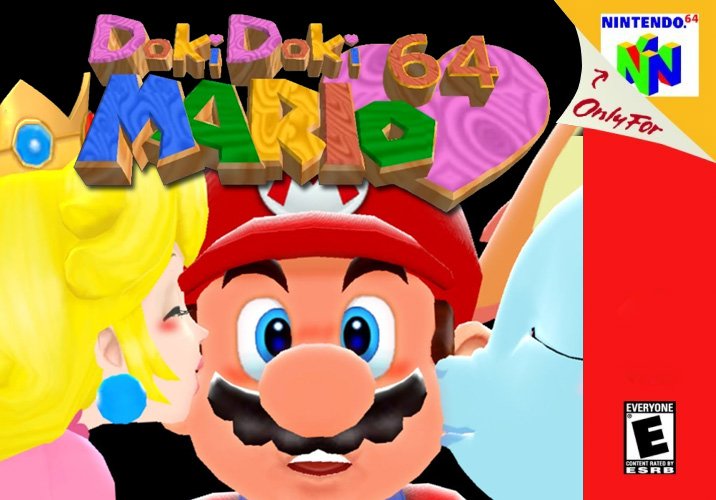 Console : Nintendo 64
Language :

Genre : Action - Adult - Platformer
Multiplayer : 1 player
Year : 2018
Developer : Kaze Emanuar
Weekly games : 17

Doki Doki Mario 64 is a ROM hack created by Kaze Emanuar on June 9, 2018. This hack is a parody of dating sims where Mario joins a high school and is able to choose from 12 different potential love interests to run quests for.
The game is unique in that Stars can be collected as often as the player wants from the Star Fields, being treated more as a way to progress each girl's routes or as currency to buy special items rather than an end-of-objective reward. There is very little combat in this game, and Mario cannot die or even take damage.

Despite the game's nature as a meme, there is an actual story that progresses as you play the game, requiring the player to do each girl's route at least once before seeing the true ending.

This game is named after Doki Doki Literature Club, another well-known dating sim that subverts some expectations of the genre.
All the titles for the girls in the above list were taken directly from Kaze Emanuar's video that announced the game's release.
The descriptions for each girl as written above were intentionally written in a way that one would expect in a traditional dating sim, though few (if any) are as straightforward as this, going off of the game's non-serious nature.
The game has one of the most terrible ending in any hack in which the girls were all killed when you finish the game

Warning: This game is not suited for people. Play At Your Own Risk.
Further information :
Indispensable: In Project64, click on "Options" then on "Settings" in the "Options" tab, you must uncheck the box "Hide advanced settings". Then you have to go back to the settings, there will be many more tabs, click on "ROM settings", and set the size of the RDRAM to 8mb.
---
User Feedback