1
The Legend of Zelda : Parallel Worlds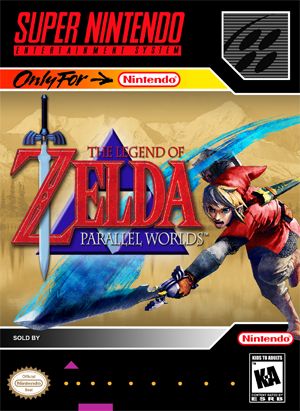 Console : Super Nintendo
Language :

Multiplayer : 1 player
Year : 2007
Developer : Euclid, SePH
Weekly games : 5

The Legend of Zelda: Parallel Worlds est un hack de The Legend of Zelda: A Link to the Past offrant un jeu flambant neuf.
Dans ce jeu, Link est un chasseur de trésor venant d'un pays lointain! Il est arrivé sur ces terres avec son ami afin de trouver le trésor de ce royaume.
Mais, hélas, beaucoup de choses se sont passées depuis l'avenue de Link et de son ami : 7 personnes surgirent de nul part! Ils furent questionnées sur la tour parallèle, une légende perdu avec le temps
La rumeur commença à circuler dans tous le royaume autour de cette fameuse tour, et la majorité des gens commencèrent à s'y intéresser.
La légende raconte que la tour parallèle fut construite durant la dernière guerre, et que une relique mystérieuse du nom de triforce résiderait au sommet de celle ci! Par un évènement inexpliqué, la triforce aurait scindé le monde en 2 mondes parallèle.
Mais une chose est sûre, personne ne sait comment arriver au sommet. Il se trouverait que les 7 personnes aient connaissance de la façon d'y accéder.
Le roi ayant eu vent de leur arrivé, y vit l'occasion de retrouver un savoir perdu avec le temps!
Hélas, l'assistant du roi, Draegor, qui a pour ambition de s'emparer du pouvoir de la triforce, assassina le roi durant la nuit et, les 7 personnes tombèrent dans le piège.
Ils furent interrogées de force par draegor puis tuées une fois l'interrogatoire fini.
Lorsque le peuple appris l'assassinat du roi, il décida de créer une rébellion en secret pour mettre fin aux ambition de Draegor. Le chef de la rébellion appris que 1 des 7 personnes interrogées est encore vivante!
Link et son ami décident alors de rejoindre la rébellion pour sauver la 7ème personne!
Et c'est donc là que l'histoire commence...
There are no images in this album yet
---
User Feedback