Pokémon Snap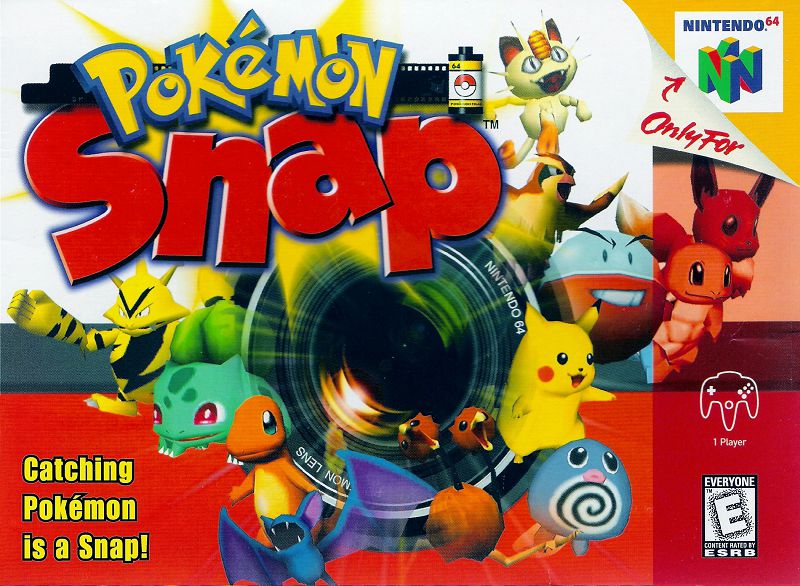 Console : Nintendo 64
Language :

Multiplayer : 1 player
Year : 1999
Developer : HAL Laboratory
Publisher : Nintendo
Weekly games : 2

As Todd Snap, an aspiring Pokémon photographer, you must travel through different environment types in order to photograph as many Pokémon as you can find. With the help of Professor Oak, you will discover new places to photograph Pokémon, ranging from those such as a volcano which houses Fire Pokémon to a jungle housing Grass Pokémon. The game features 63 of the original 151 Pokémon, including favorites such as Pikachu and Charizard.

Throughout your journey as a Pokémon photographer you will obtain new items from Professor Oak to help snap a photo of those Pokémon whose attention you just can't seem to attract. At first you are equipped with only an apple, but by taking great photos of various species you will get access to items such as a Pester Ball or a Poké Flute. Gameplay is similar to that of a rail-shooter, in which you move across a linear route and are only able to look around to take pictures. At the end of each route you receive a score from Oak depending on things such as the position of the Pokémon in the frame shot, the size of the Pokémon in the picture, or how many of that Pokémon are together in the shot. Up to 60 photos can be taken during each course and you choose the one to submit to Oak. All the photos you take can later be accessed in your own Pokémon album. The game features six different courses, but a seventh one can be unlocked by taking a picture of a mysterious Pokémon sign in each of the other courses. The seventh course known as Rainbow Cloud offers the only opportunity to snap a photo of the rare and elusive psychic Pokémon, Mew.
There are no images in this album yet
---
User Feedback