Professeur Layton et l'Appel du Spectre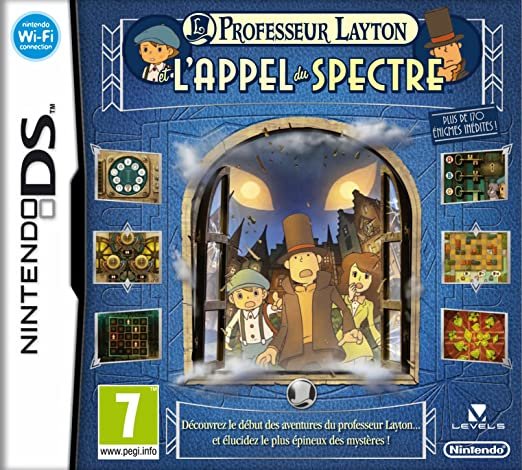 Console : Nintendo DS
Language :

Multiplayer : 1 player
Year : 2011
Developer : Level-5
Publisher : Nintendo
Weekly games : 52

The events of this game take place three years before Professor Layton and the Curious Village.

Professor Hershel Layton is an archaeologist respected by his peers, a great lover of enigmas, puzzles, rebuses and other mysteries. His thinking skills make him an extraordinary man allowing him to shed light on all the cases that are submitted to him, even the most confusing.

One day, Professor Layton receives a most surprising missive from Clark Triton, one of his old friends: "At night, a terrible giant shrouded in mist razes our houses!" Guided by a message hidden in the letter, Professor Layton and Emmy, his new assistant, travel to the town of Misthallery to shed light on this mystery. In this city, they will meet Luke, a little boy who claims to know when the end of the world will come.

"When the sound of the flute resounds throughout the city, the specter will appear..." This is an excerpt from the legend of the specter, passed down from generation to generation in Misthallery. Could he be the cause of the wave of destruction that is sweeping the city? This question is at the heart of other mysteries that Professor Layton is determined to solve. What is this dark threat hanging over the city? Will our heroes discover the truth about the spectrum?
There are no images in this album yet
---
User Feedback