Fist of the North Star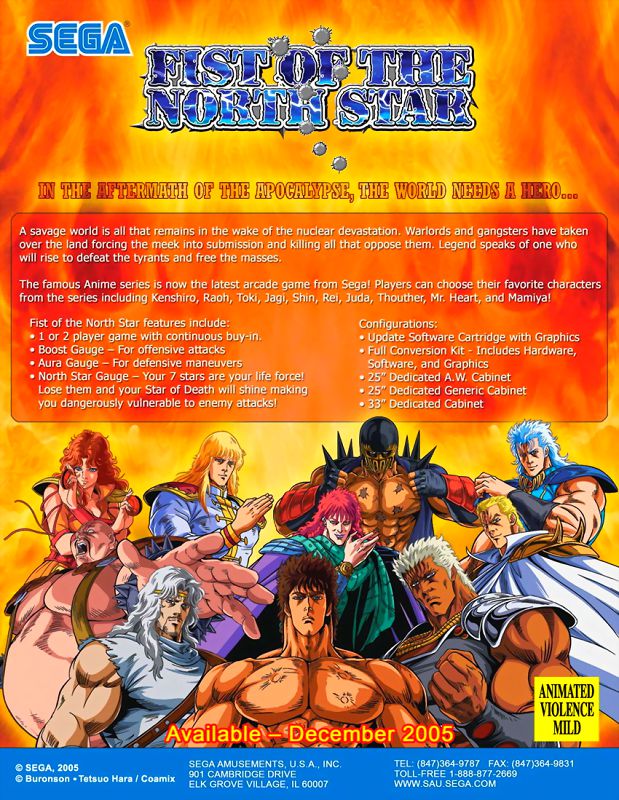 Console : Atomiswave
Genre : Fighting
Multiplayer : 2 players
Year : 2005
Developer : Arc System Works
Publisher : Sega
Weekly games : 24

Hokuto no Ken: Shinpanno Sousousei Kengou Retsuden is a port of the 2005 arcade game. It is a 2D one-on-one fighting game similar to Guilty Gear (developed by the same software house) based on the first series of the Hokuto no Ken anime.
Combos, special moves, including fatal ones, are included in the complex game system, based on energy bars and on the seven stars system. When all the seven stars of a character are depleted (some moves can remove one or more star to the character's bar) he/she is exposed to fatal KO move. If that move hits the player's character, the round is lost and the next one begins with all the seven stars.
The game features a total of 10 playable characters (nine available from the beginning plus one secret character). They are Kenshiro (Hokuto), Raoh (Hokuto), Toki (Hokuto), Jagi (Hokuto), Shin (Nanto), Rei (Nanto), Thouther (Nanto), Juda (Nanto), Heart, Mamiya. As usual, each character has his own peculiar points of strength and weakness. The fighting takes place in various locations featured in the animé such as Southern Cross, Thouther's Pyramid, Ruined Cities and so on. A history mode is also available, covering the first series' storyline. A versus mode, arcade mode and a training mode are provided, too.
There are no images in this album yet
---
User Feedback