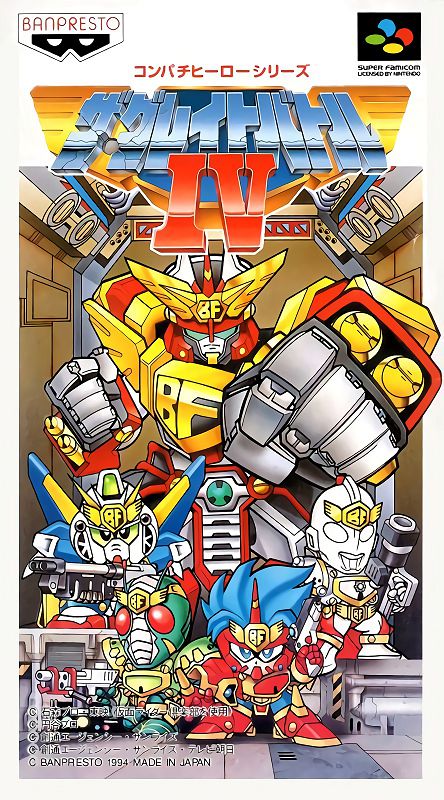 Console : Super Nintendo
Language :

Genre : Action - Platformer
Multiplayer : 2 players
Year : 1994
Developer : Sun L
Publisher : Banpresto
The Great Battle series are, as always comprised of 4 characters from different series. There's Gundam, Kamen Rider or Masked Rider if you didn't know, and Ultraman. The last character is always Roa, originating from SD Great Battle. I get the feeling Roa's always the weakest, too like all good games, the GB series were never released outside Japan, so everybody else missed out on what would have been named a "Concerto of Heroes".
You lead the four main characters around blowing up stuff as a group called BattleForce [as denoted by the BF on Roa's bandana]. Your guys have different abilities, such as flying, double jumps, ball-transforming [this one cracked my ribs] and wall-climbing. Use these well and you'll get through the game with small problems. Neglect their uses and you won't be able to get past stage 1. At the end of each stage, you'll fight a boss [original, isn't it?] and depending on what kind, either your 4 guys vs 1 bad guy, or Compact Kaiser vs Mutated Soon-To-Be-Metal-Scrap robot.
Further information :
Translation version 1.0

Thanks to FlashPV for this translation.

Game files

The Great Battle IV 2019/02/11 1.18MB

There are no images in this album yet
---
User Feedback