1
Super Mario RPG: Armageddon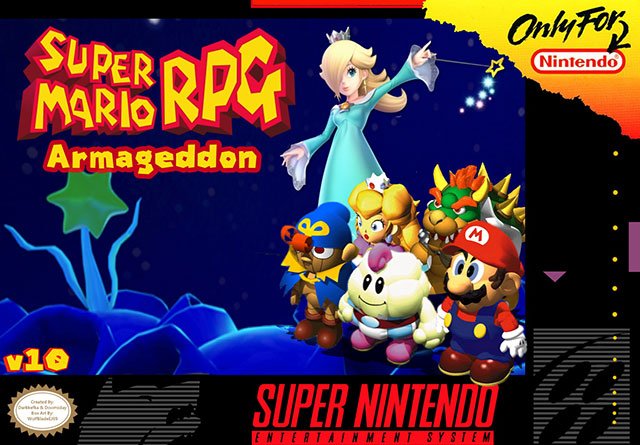 Console : Super Nintendo
Language :

Multiplayer : 1 player
Year : 2022
Developer : DarkKefka & Doomsday31415
Weekly games : 1

Super Mario RPG: Armageddon is a difficulty and content mod for Super Mario RPG. It rebalances the entire game and adds a lot more post-game content, such as more FF bosses, two boss rushes, and even some special guests!

Here you'll find:

- The damage formula has been completely rewritten to allow for much bigger numbers
- Brand new spells like Holy Star, Galaxy Blast, and Geno Flurry
- New status effects like Curse and even a new element: Holy
- New weapons, armor, and accessories for each character
- Dozens of new bosses from a variety of franchises, including Final Fantasy, Pokémon, and more
- Reworked and reimagined bosses throughout the main story, along with several surprises
- Dozens of new attacks and spells used by monsters
- Tons of new and custom sprites, including the new bosses and other characters like Luigi and Rosalina
- Over a dozen music tracks remixed into SMRPG from various franchises
- The fact that you can get to level 50 is such a minor detail here, it's barely worth mentioning
- And so much more!
Further information :
Version 10 adds two difficulty levels, Normal and Hard.

For more details: https://www.romhacking.net/hacks/6665/

There are no images in this album yet
---
User Feedback