Ninja-Kun: Ashura no Shou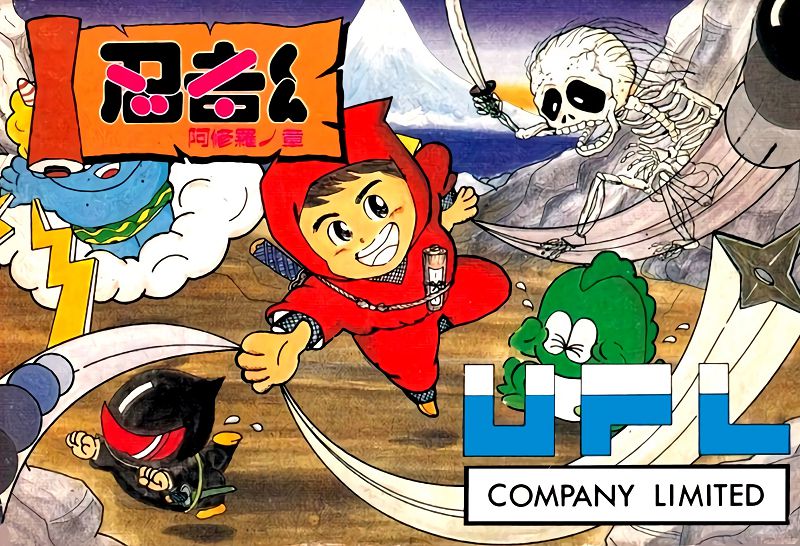 Console : NES
Language :

Genre : Action - Platformer
Multiplayer : 2 players
Year : 1988
Developer : Micronics
Publisher : American Sammy
The game tells another story in Ninja-kun series. This time it's a platform game with some twists. There are two tasks alternating through levels: you are required either to kill every enemy in the level (as in the previous games) or simply to reach the exit. Running into enemies usually won't kill you, however if you are hit by a single projectile, you'll have to start from a checkpoint. Enemies vary from plain ninjas to giant skeletons or killer fish. Each level has a time limit, and when this limit is close to an end a fire wheel of death will appear on the screen, chasing Ninja-kun.

Ninja-kun has some techniques for successful progression though the levels: many enemies can be temporarily stunned by jumping on them or hitting them from below; and ninja can obtain some power-ups including boomerang, bombs, a devastating fire attack or invincibility. Ninja-kun is capable of wall climbing and wall jumping, the latter requiring some practice from the player.

The levels (called "scenes" in-game) are scattered through mountains, caves, beaches and underwater locations. You can choose which set of levels you'll start in by playing a mini-game at the beginning.
There are no images in this album yet
---
User Feedback