Disney's Party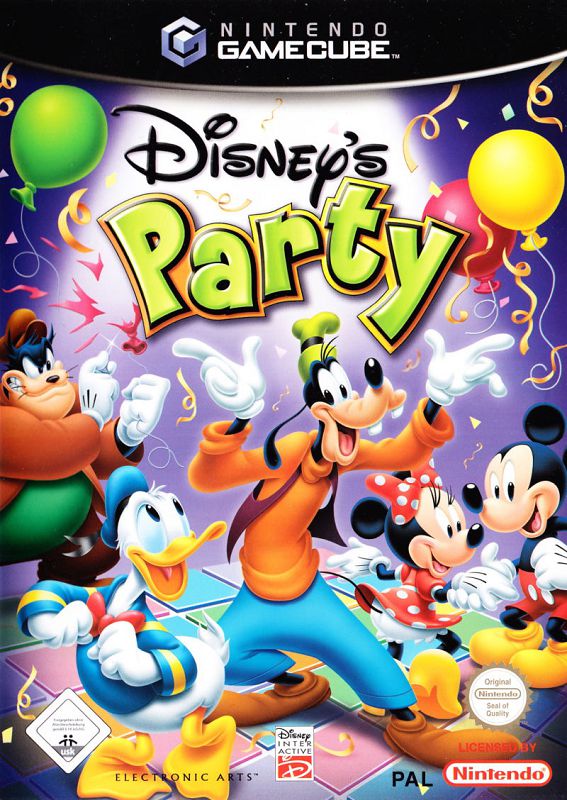 From Mario Party creator Hudson Soft comes a similar party game using the Disney license and characters.
For the main game modes (Game Board and Pairs), players can select from six characters: Mickey and Minnie Mouse, Donald and Daisy Duck, Goofy, and Billy the Ghost. Uncle Scrooge invites four of them to his theme park. At the beginning of the game, each character is handed a five-by-five game board, with randomized colors. The goal is to complete rows on the board (how many can be adjusted before a game) by putting items of the appropriate color on the board, with the first player to complete his board being the winner.
The characters move on a 3D game board. Movement is not made via dice but the so-called Wheel of Destiny. Players choose which space on the board they want to go next. More players wishing for the same space increases its chances of being chosen. All characters then move to the selected space together.
There are 14 different types of space, including items, events, shops (which use crystals as currency), transportation to another part of the board, and mini-games. The mini-games, of which there are 30 different ones, are the main part of the game. All are played by all four characters together and include racing, shooting, image-matching, counting, pressing displayed button combinations, and many more. The goal is to collect a number of stars, with the player who reaches the number first being the winner. Power notes, which can either be found or bought in shops, can be used to give an advantage during a mini-game.
There are no images in this album yet
Related videos
---
User Feedback