Diddy Kong Racing DS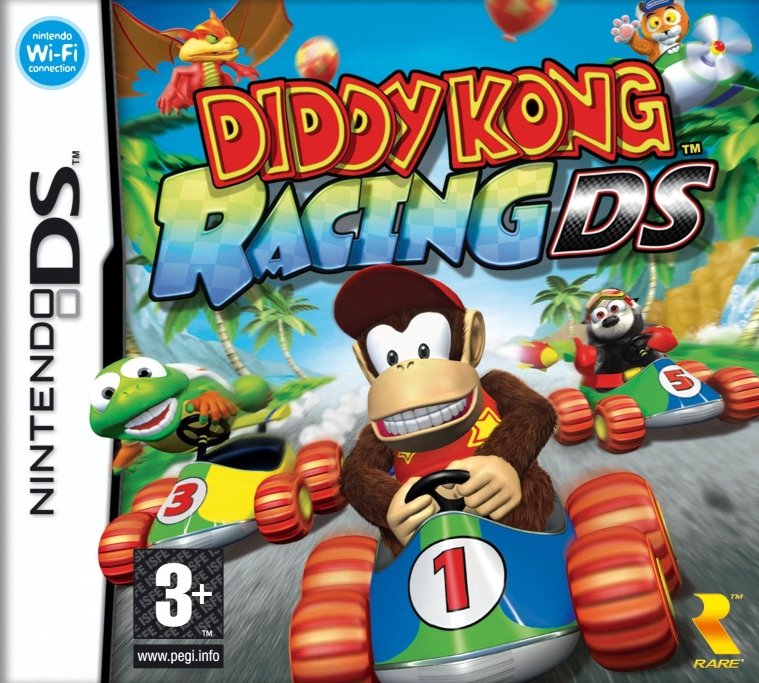 Console : Nintendo DS
Genre : Racing
Multiplayer : 8 players
Year : 2007
Developer : Rareware
Publisher : Nintendo
Weekly games : 8

When Tiger Island is taken over by the evil Wizpig, Timber sends a letter to Diddy to request his assistance. Diddy, Dixie, Tiny Kong and the rogue Kremling Krunch turn up to help Timber and his friends, Bumper, Tiptup and Pipsy.
Diddy Kong Racing DS is remake of the Nintendo 64 game of the same name. However, while the story and setting remains the same, this is more of an upgrade instead of a port. Players can still race around assorted tracks around Tiger Island via kart, hovercraft or plane, winning races to earn golden balloons to progress and defeating bosses to confront Wizpig.
There have been subtle tweaks to the gameplay. While you can still level up your balloons by collecting another of the same colored balloon in a row, collecting a different colored balloon will not change your weapon - you'll have to fire your current weapon first. The Silver Coin Challenge from the original game has been removed from the main adventure, and is replaced with a first-person touch screen shooter where you fly around on Taj's magic carpet and aim to pop as many balloons as you can. There's also an optional racing mode where you race by using the stylus to guide the vehicle through a top-down map.
The game now supports currency system for most unlockables - dotted along the track are coins, which can be used to buy 'wishes' from Taj the Genie. These include anything from new characters, exclusive tracks, a custom track editor, battle modes to unlock in multiplayer and so forth. The DS version of Diddy Kong Racing also heavily supports multiplayer. You can play with one game card or multiple game cards (to a maximum of eight players), or online to a maximum of six players. Similar to Mario Kart DS, you can design your own custom decal and have it as your visual representation for when you race around the world.
There are no images in this album yet
---
User Feedback