Super Mario 74: Ten Years After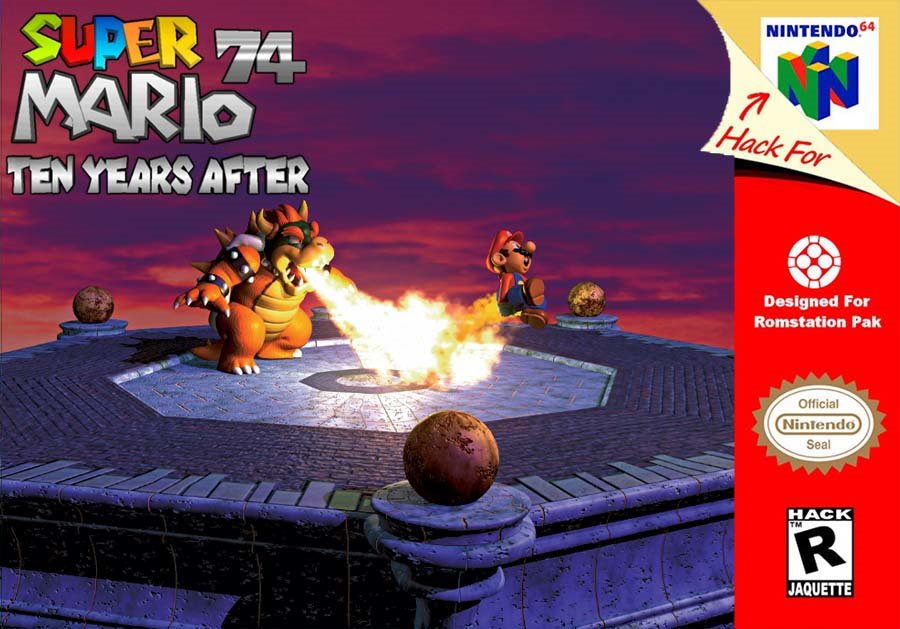 Console : Nintendo 64
Language :

Genre : Action - Platformer
Multiplayer : 1 player
Year : 2021
Developer : Mariocrash
Weekly games : 3

After saving Princess Peach from Bowser's evil clutches and stopping an extreme disaster, peace has returned in the Mushroom Kingdom. While its restoration process is underway, Mario notices that something is off around the worlds and is investigating the changes. Could this be Bowser taking revenge, or, some strange phenomenon about to spread across the kingdom once again?

Super Mario 74: Ten Years After is a major ROM Hack created by Mariocrash (also known as LinCrash on Twitch). Released on January 2021, this hack is a crossover of both Lugmillord's Super Mario 74 and its Extreme Edition counterpart, which introduces newer themes for the levels, as well as newer missions. It was made to celebrate Super Mario 74's 10th anniversary ever since its official release.

According to the title itself, this hack is the 3rd game of the series, which takes place 10 years later after the events of Extreme Edition; meaning that the levels are no longer devilishly difficult, although some are harder to their predecessors from a visual aspect. While all of this is exclusive, the levels are mirrored again and fewer extras that weren't in both hacks have been included.

The new update, Deluxe Edition, released in about the day of Super Mario 74's full release, features extra QoL enhancements, polished design changes and the 2 newly reworked Sphere levels as a mark to tone the game's difficulty down for blind/casual-friendly and experienced players alike.
Further information :
The game needs the expansion pack to work, don't forget to activate it!
In Project64, click on "Options" then on "Settings" in the "Options" tab, you must uncheck the "Hide advanced settings" box. Then you have to go back to the settings, there will be many more tabs, click on "ROM settings", and set the size of the RDRAM to 8mb.

There are no images in this album yet
---
User Feedback