16
Conker's Bad Fur Day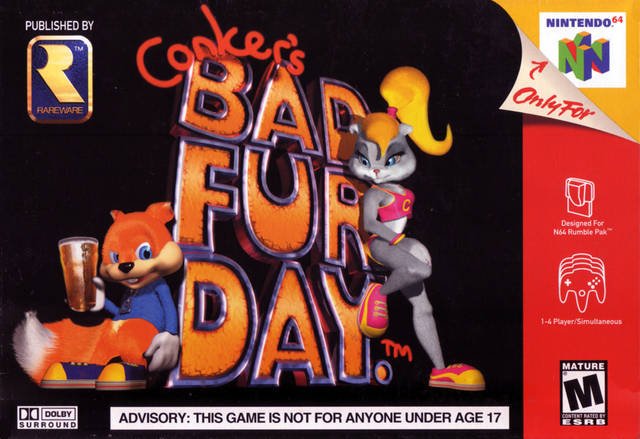 Console : Nintendo 64
Language :

Genre : Action - Adventure - Platformer
Multiplayer : 4 players
Year : 2001
Developer : Rareware
Publisher : THQ
Weekly games : 31

Conker the Squirrel has had a really bad day. Too much partying, too much booze - and the result is predictable: a terrible hangover. What is less predictable, however, is the fact that Conker has no idea where he is. All he wants is to go home to his girlfriend Berri, but it seems that an unknown force has thrown him into another world. The ruler of said world, the dumb, but vicious Panther King, is having a serious problem: he has been just drinking milk when he discovered that the table in his throne room is missing one of its legs. Unable to solve the problem by himself, the enraged monarch sends for the mad weasel scientist, Professor Von Kriplespac, who suggests a red squirrel as a replacement for the table's lost leg. The Panther King sends his minions after Conker, who has to explore the bizarre world, deal with its eccentric characters, stay alive, and find a way to return home.
Conker's Bad Fur Day is a grotesque counterpart to Rare's own cheerful, child-oriented 3D action platformers (such as for example Banjo-Kazooie). Intense swearing, violence, and instances of "toilet humor" co-exist with cute animals and a brightly colorful fantasy world. The game also contains segments that parody famous movies, such as The Matrix, Terminator, and others.
The core of the gameplay is 3D platform action. Conker can jump, climb, swim, and attack enemies with various weapons (the default one being a frying pan). Conker can also collect money, which is sometimes needed to advance to a new area. The game world is reasonably open, containing an overworld from which the player can access large levels that take a while to explore. Talking to characters and performing tasks offered by them is one of the main devices used to advance the plot and unlock a different area.
A multiplayer mode is also included, allowing 4 players to battle it out in many different styles of multiplayer gameplay, including a deathmatch, a race, a "capture the flag"-like mini-game, etc.
Further information :
Thanks to Corrigo for this translation.

https://www.romhacking.net/translations/3457/

There are no images in this album yet
Related videos
---
User Feedback