The Jungle Book : Mowgli's Wild Adventure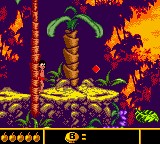 One of several games released in 1994 based on the Disney film The Jungle Book, the version for Nintendo's 8-bit machines is similar in design to the Genesis version, but has a unique set of levels.

In each of the 10 platforming stages, jungle boy Mowgli has to collect a certain number of jewels to advance. Most of them are scattered over the level, but some are dropped by killed enemies. The foes consist of a variety of jungle animals like snakes, monkeys, rhinoceroses and hedgehogs. Mowgli can jump on their heads or use a number of weapons to dispatch them. These include bananas, double bananas, boomerangs and nuts. Ammunition for the last three must be collected from fallen foes. In addition to ammo, Mowgli can also pick up fruit that restore health, a mask that grants invincibility (to be triggered when needed) and a shovel which grants access to bonus levels.

In every second level, the jewel hunt is followed by a boss fight. These not only feature the film's villains like Kaa the snake, King Louie the ape and Shere Khan the tiger, but for some reason Mowgli must also knock out his friend Baloo the bear.
There are no images in this album yet
---
User Feedback