4
Kuzco : l'Empereur Mégalo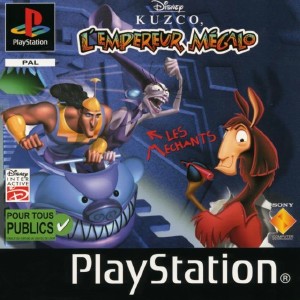 Console : Playstation
Language :

Genre : Action - Platformer
Multiplayer : 1 player
Year : 2000
Developer : Argonaut
Publisher : Sony
Weekly games : 7

Sharing a title and storyline with the movie released around the same time, Disney's The Emperor's New Groove is an unconventional adventure meant for gamers of all ages and interests. A selfish, over-bearing Emperor pushes his people just a little too far, just a few times too often, until finally there is retaliation. One of the ruler's subjects becomes so fed up as to put a curse on the Emperor, turning him into a llama. Though this different perspective might provide new insight to even the most hardened heart, the Emperor begins his life as a llama in the same cynical, grumpy, sarcastic mindset that he had when human.
The game includes many different levels with various type of gameplay. There is a forward-scrolling, "roller-coaster" challenge in which players must navigate a spinning bowl (containing our "hero") over hill and dale to relative safety. There are a few more traditional platform levels as well, in which the llama Emperor can kick and spit at his opponents. This strange tale makes for a strange game, but one that could prove interesting to Disney-crazy kids and hardened action-adventure gamers alike.
Features:
Based on the Disney film
Travel through villages, jungles, and rivers
Search for items that open other areas of the stage
Potions that will change him into a turtle, rabbit, or some other creature
Actual movie clips and voice work from David Spade
There are no images in this album yet
---
User Feedback