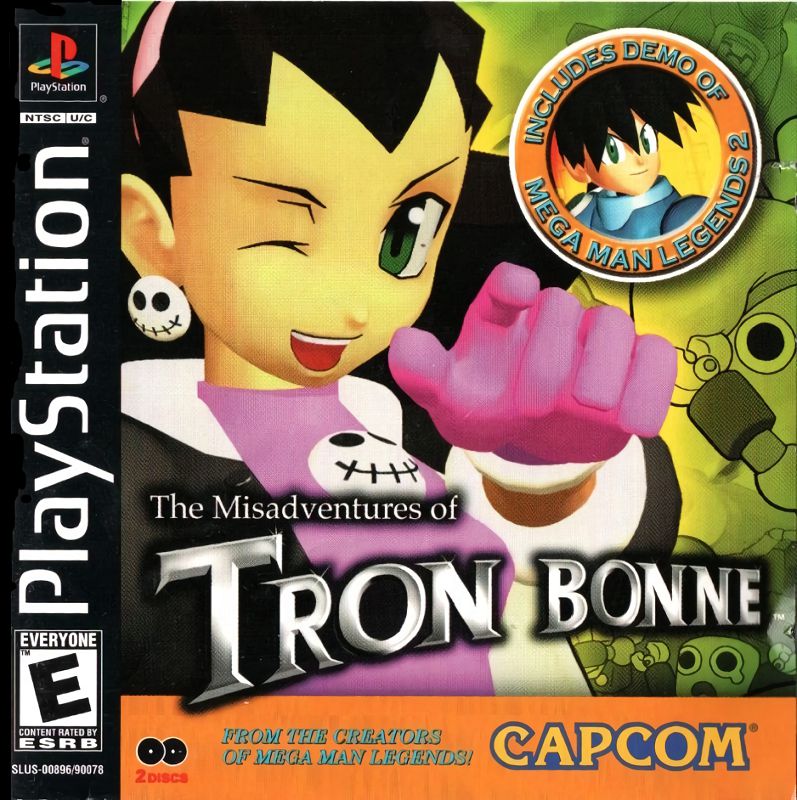 Console : Playstation
Language :

Multiplayer : 1 player
Year : 1999
Developer : Capcom
Publisher : Capcom
Things are looking up for the Bonne family. Having just finished getting their airship, the Gesellschaft, operational, Teisel Bonne sets out with younger brother Bon Bonne to explore an unexplored ruin. Unfortunately for Teisel the loan he took out to pay for the Gesellschaft just came due, and the two Bonne brothers are taken prisoner. Now it's up to Tron to save her siblings and pay off their debt the only way she knows how: Grand Larceny.

Most of the levels in The Misadventures of Tron Bonne are played similarly to Mega Man Legends, but with minor tweaks to controls. Tron's walking tank, the Gustaff, can't equip the wide range of alternate weapons like Mega Man, but it can pick up and hurl large objects like trees and cars. It can also launch beacon bombs which direct the Servbots following Tron to either attack or steal anything in the vicinity. Additional levels include a crate stacking puzzle minigame where Tron needs to steal selected crates of valuables in a limited number of moves, and a first person dungeon exploration section where Tron must depend on the Servbots alone to clear out traps and enemies. Despite the Servbots all looking alike, each one has unique stats and abilities. By taking them on missions, training them aboard the Gesellschaft, or using special items their stats can be raised, unlocking hidden talents.
Game files
The Misadventures of Tron Bonne 2019/02/13 155.05MB
There are no images in this album yet
---
User Feedback