Super Robot Taisen : Original Generation 2
Downloads
Super Robot Taisen : Original Generation 2 2019/02/08 8.82MB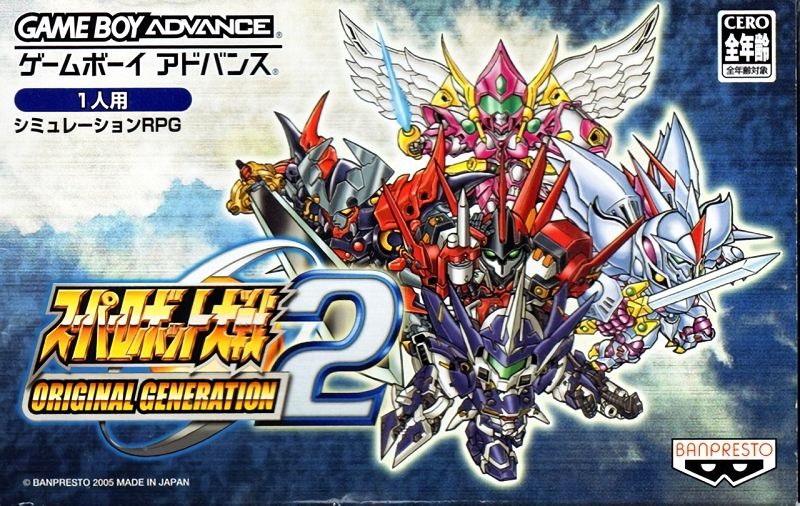 Console : Gameboy Advance
Language :

Multiplayer : 1 player
Year : 2005
Developer : Banpresto
Publisher : Banpresto
Super Robot Taisen: Original Generation 2 is a strategy RPG in which players lead a small force of mechs in a fight to save humanity from an alien invasion. The designs of the mechs, pilots, and attacks are heavily influenced by anime.

The combat system of this game is similar to its predecessor. The player controls multiple mechs and issues commands in a turn-based fashion. Each mech pilot has "spirit commands" that can be used to strengthen a mechs abilities such as its hit or dodge rate. After moving a unit, the player is usually given the option to attack an enemy with an attack from a list. After all of the player's mechs have been moved, the AI gets a turn to move its mechs. If a player mech is attacked, the player has the option of counter-attacking, attempting to evade, or defending.

Super Robot Taisen: Original Generation 2 does include a few minor changes to the battle system. For one thing, a new attack type (known as a chain attack) allows a unit to strike multiple enemies in a single blow. Also, the AI has been vastly improved.

The graphics of Super Robot Taisen: Original Generation 2 have been enhanced from the graphics of the original. Attacks from mechs now have a more fluid motion and are generally more interesting to look at.

The game's story picks up six months after the original Super Robot Taisen: Original Generation left off. Most people on Earth are still trying to recover from the battle with the Aerogaters, but a small remaining faction of the Divine Crusaders is still trying to further their goals. Once again, it's up to the SRX and ATX teams of the EFA to put a stop to their activities and restore order. However, they are soon interupted by two new groups of mysterious enemies: the Einsts and the Inspectors.
There are no images in this album yet
---
User Feedback