2
Shin Megami Tensei : Persona 2 : Innocent Sin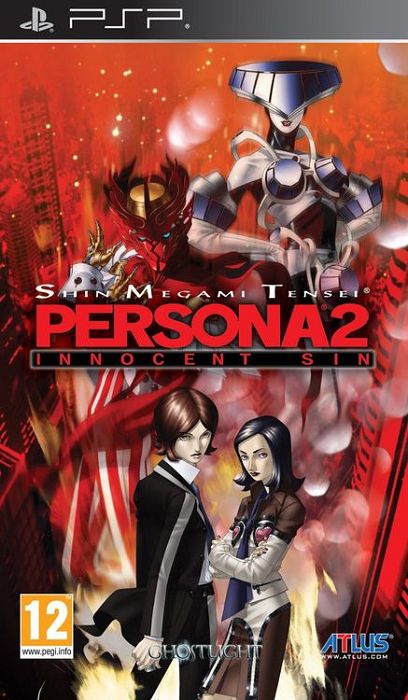 Console : Playstation Portable
Language :

Genre : RPG
Multiplayer : 1 player
Year : 2011
Developer : Atlus
Publisher : Ghostlight
Weekly games : 5

Innocent Sin takes place in 1999 in Sumaru, a fictional seaside city in Japan with a population over 1.28 million. Most of the protagonists come from two high schools in Sumaru: Seven Sisters, a prestigious school which the protagonist attends, and the less-prestigious Kasugayama). During the course of the game, popular rumors of various kinds around the city begin to come true, sometimes with dire consequences. The party wields the power to summon Personas: they are defined in the game's instruction manual as "another side of [the protagonists]". The power of Persona is granted to the party by Philemon, a being from the collective unconscious who acts as a spiritual guide and helper. A key element of the story is the Oracle of Maia, a prophecy foretelling of a series of events which will lead to the world's end during a planetary conjunction called the Grand Cross.
The protagonist of Innocent Sin is Tatsuya Suou, a senior student at Seven Sisters: popular with most students, he keeps himself isolated from the rest of the school. He later joins with other students to investigate the happenings around Sumaru: Lisa "Ginko" Silverman, whose parents were originally from overseas before becoming Japanese nationals; Eikichi "Michel" Mishina, a second-year from Kasugayama High who is the leader of a band; Maya Amano, a reporter for a teen magazine; and Yukino "Yukki" Mayuzumi, a former student of St. Hermelin High and Maya's photographer. They are later joined by Jun Kurosu, a former childhood friend of Tatsuya's. Other important characters include members of the Masked Circle, a group influencing the rumors around Sumaru; and Nyarlathotep, a representative of the collective unconscious who acts as Philemon's opposite
There are no images in this album yet
---
User Feedback