9
Rogue Galaxy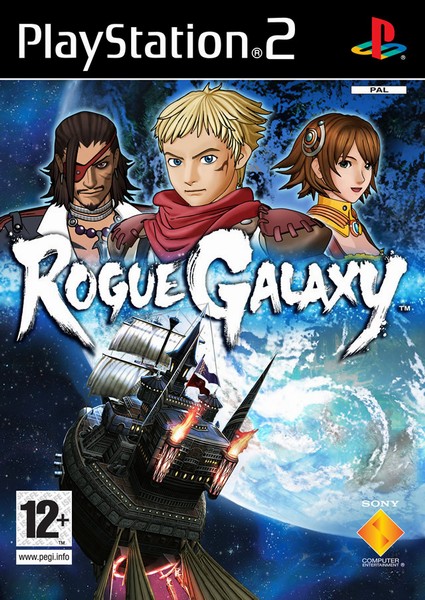 Console : Playstation 2
Multiplayer : 1 player
Year : 2007
Developer : Level-5
Publisher : Sony
Weekly games : 28

Rogue Galaxy is the North American and European localized version of Rogue Galaxy (2005), only released in Japan at the time. Instead of only localizing the game, developer Level-5 Inc. spent 2 years to improve the game and add new features and content. This version was also re-released in Japan as Rogue Galaxy (Director's Cut).
The original single-layer DVD was replaced by dual-layer and the doubled amount of space was used for smoother, better-looking graphics and additional data. Aside from the 4 existing planets, a fifth one, Alistia, was added. It is not part of the main story, but deepens the storyline and has new quests and items. A key to access the new world can be found in chapter 8. The existing Insectron Tournament sidequest has been expanded with two species of Insectrons, each with 8 types of Insectrons per species. The level design of Rosencaster Prison, the Gladius Towers, the Daytron factory, Rosa's desert town, and Rosa's Labyrinth has also been altered.
Over 2,000 lines of additional voice dialogue were added, the battle animations were reworked, damaging enemies has become easier (attack formula revision) and Toady's analysis of weapons has also been simplified.
Other gameplay improvements include the introduction of collectible Burning Chips, which power the Burning Strike attack, more items overall, two new weapons for each character (except Jaster), with 140 weapons in total, and 5 bonus costumes for each character (6 for Kisala and Simon).
Jaster Rogue, a young man from the planet Rosa, has always dreamed of exploring the stars. His home planet is a great source of highly sought natural resources and so has recently been occupied by the Longardia Commonwealth as protection from the Draxian Empire. The people of Rosa are highly oppressed and not allowed to leave the planet, but fortunately for Jaster, he's mistaken for the legendary hunter, Desert Claw, by a band of space pirates. Their captain, Dorgengoa, recruits him and other various people for the task of finding a mythical planet, called Eden, which is said to hold the secrets of an advanced civilization and vast treasures; enough to rule the galaxy. But the Daytron Corporation and its president Valkog Drazer is also looking for this mythical planet and will stop at nothing to find it.
Rogue Galaxy is an RPG with a science fiction background. The game boasts a continuous environment with real-time battles and no loading screens. It also consists of a weapon upgrade system that allows the player to synthesize new weapons by combining old ones.
The combat system allows 'Tech' attacks which are team attacks where two or more team members can combine their abilities into a single large scale attack. A special attack, called 'Burning Strike', allows the character to attack with multiple strikes by pressing certain buttons at the correct time. Every correct button press yields another strike added on to the attack. Also, items and enemies can be picked up and thrown at other enemies to damage them. Enemies can also be invulnerable until some special condition has been met, i.e. certain weapons must be used, or an enemy can only be attacked at certain weak areas.
Early on in the game, the player gains access to the Factory. This is an area where machine components are laid out on the floor, and hooked up to power supplies. This is essentially a time-flow puzzle, where the player must take into account which materials to use, how to process them, and combine them at the right times to produce a sample of an item. If successful, the item can be bought at shops after a while. New blueprints for different items and machine components can be found by talking to various NPCs.
Weapons in the game gain experience as the player uses them until they're 'Maxed', at which time they can be combined with other maxed weapons to synthesize new and better weapons. After the weapon has maxed out its experience, it continues to gain experience in other elemental categories to a certain degree. A 'Mastered' weapon has its experience and elemental categories maxed out.
There are no images in this album yet
---
User Feedback