1
Quiz Show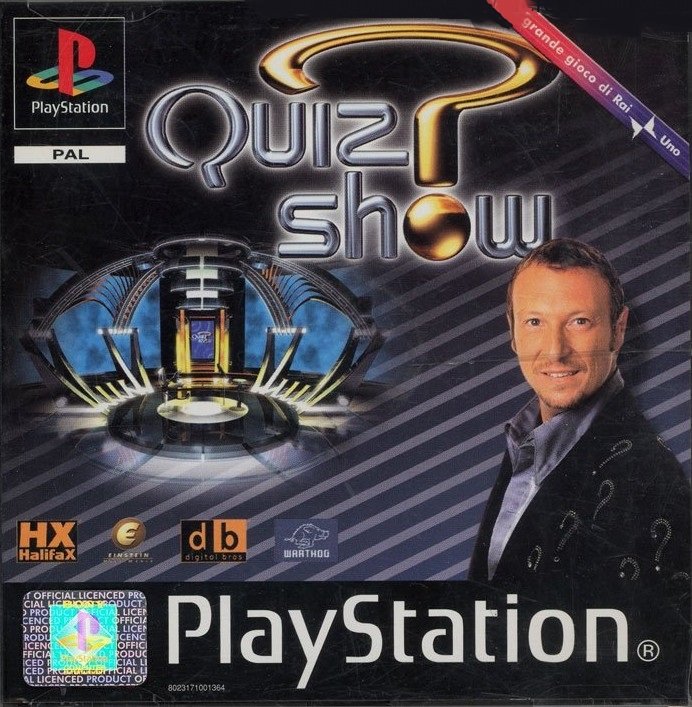 Console : Playstation
Language :

Genre : Quiz
Multiplayer : 4 players
Year : 2001
Developer : Warthog
Publisher : Digital Bros
A game show is a type of Internet, radio, or television programming genre in which contestants, television personalities or celebrities, sometimes as part of a team, play a game which involves answering questions or solving puzzles usually for money and/or prizes. The contestants are sometimes invited from a pool of public applicants. On some shows contestants compete against other players or another team while other shows involve contestants playing alone for a good outcome or a high score. Game shows often reward players with prizes such as cash, trips and goods and services provided by the show's sponsor prize suppliers, who in turn usually do so for the purposes of product placement.

Quiz Show is a Playstation One quiz game released only for the Italian market that is based on the Rai Uno TV Quiz Show (a TV program that was on air between 2000 and 2002 and was conducted by Amadeus, in the program the contestants were extracted from the public and they got to answer in 512 seconds a series of ten questions of increasing difficulty - winning a prize money increasing to 512 million lire), that was the italian version of Who Wants to be a Millionaire.

The Playstation game features up to 4 human players to play at the same time. And the second cd features the backstage with movies and pictures of the show.
There are no images in this album yet
---
User Feedback