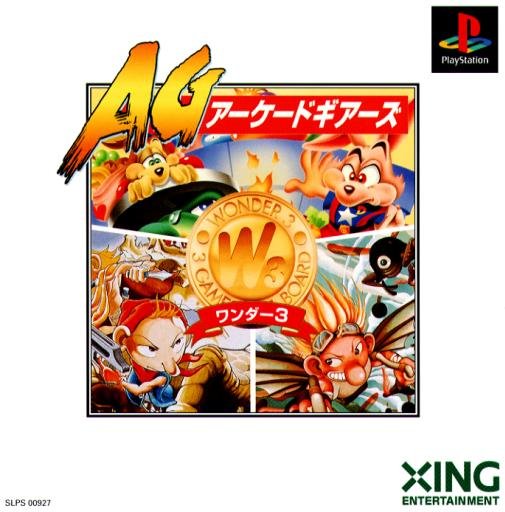 Genre : Compilation
Multiplayer : 2 players
Year : 1998
Developer : Capcom
Publisher : Xing Entertainment
Weekly games : 1

Wonder 3 Arcade Gears is the Playstation conversion of the arcade machine Three Wonders.

Wonder 3 features three arcade games on one disc. These games all originated from the early 90s. Roosters (Midnight Wanderers),Chariot and Don't Pull

The 3 games are as follows (Western names):
- Roosters Midnight Wanderers - a lovely action platform game, which bears more than a passing resemblence to Ghouls 'n' Ghosts. It's a lot more colourful than that game, and it a little easy, but if you watch your continues, you'll have great fun with this game!. It's also 2 players, which is something GnG never offered.

- Chariot - a really gorgeous horizontal shooter. Bearing a slight resemblance to Cotton, or even Parodius, only with much bigger sprited/enemies, the game has an amazingly colourful dreamlike look which may have been slighlly inspired by the film 'The Never Ending Story.' Don't let that put, you off, I guess you'll understand when you play it. The important thing is, the game is fantastic, and everyone I know who has played it said they would have bought it as a full priced game on it's own.

- Don't Pull - It's a simple puzzle game, but amazingly, it's my pick of the bunch. I actually used to own the arcade PCB, and this is the game I had most fun with. I'd pretty much say this game is as fun as classics like Splash Lake and Bomberman!
There are no images in this album yet
Alternative versions
In the same series
User Feedback