Arcade Gears: Image Fight & X-Multiply
---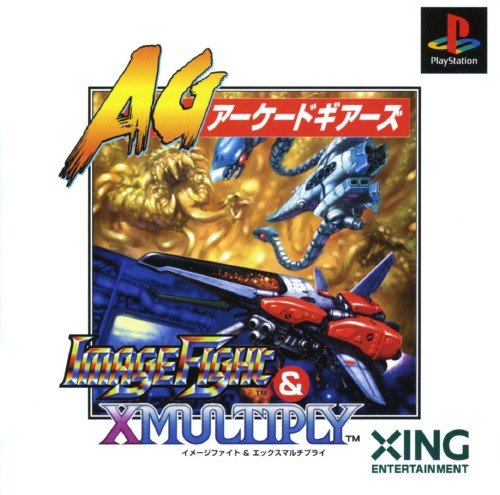 Image Fight & X-Multiply is the Playstation conversion of 2 Arcade Machines.

- IMAGE FIGHT: Image Fight was released one year after Irem's successful horizontal scroller, R-Type, and, although not directly related, the two games have some similarities.

On a fateful day in 20XX, the Earth's moon exploded into four large fragments and a multitude of meteors. Aliens from afar had succeeded in destroying the West's moon base. One after another, mankind's other military industrial space complexes were being lost. What mankind dreaded had come to pass. Scores of unidentified fighters were in the area. In addition, the moon's main computer, still intact after the explosion, had a strange vegetation coiled around it. Their trademark evil exploits being a dead giveaway, invaders from the Boondoggle Galaxy had arrived to take over the Earth. To counter these evil forces, leading scientists from all over the globe created the "OF-1" Fightership. Combat pilots depart the Earth to fend off the invaders and earn everlasting glory.

- X-MULTIPLY: X-Multiply was a horizontal shooter by Irem. Similar in style to R-Type.
The game centers around an unusual alien invasion against a colony planet in the year 2249--the aliens themselves are microscopic creatures that invade, infect, and kill the colonists. Scientists have deployed the microscopic fighter X-002 into the body of the hapless woman whose body has been invaded by the alien queen.

The game itself is a side-scroller like R-Type, albeit with a short vertical-scrolling area towards the end of the sixth level. Instead of the force pod, however, the main power-up apparatus takes the form of two flexible arms. The arms are invulnerable to all enemy attacks, and can be positioned with careful maneuvering of the X-002.
There are no images in this album yet
In the same series
User Feedback