Bob l'Eponge et ses Amis : Contre les Robots-Jouets
---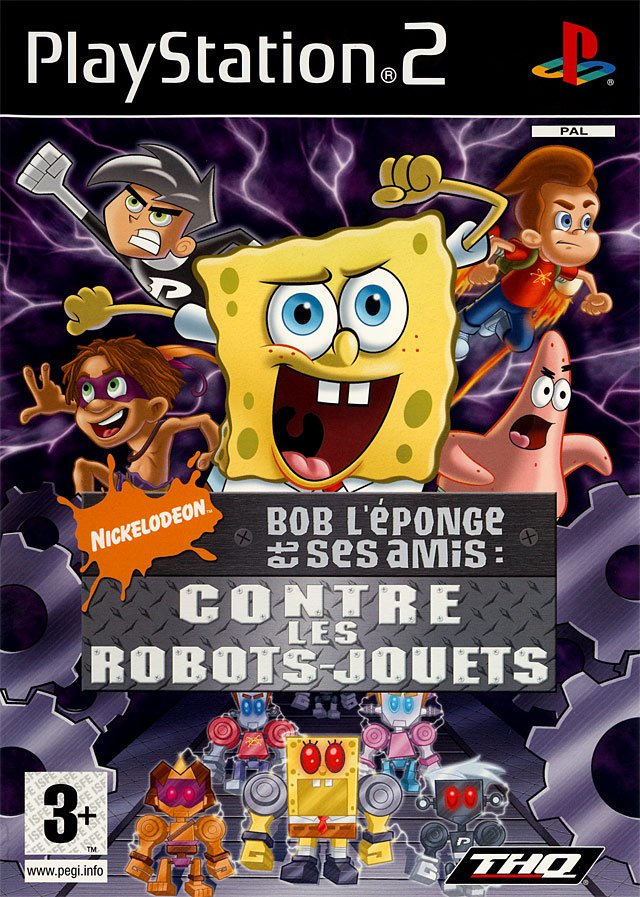 Genre : Action - Platformer
Multiplayer : 2 players
Year : 2007
Developer : Blue Tongue Entertainment
Publisher : THQ
Weekly games : 5

Nicktoons: Attack of the Toybots is a side-scrolling platform game. It involves popular characters from several Nicktoons franchises such as Spongebob Squarepants, Timmy Turner, Jimmy Neutron, Gir, Ren, and Tak. Professor Calamitousfuels his army by feeding fairies krabby patties. This makes them emit a gas that, when mixed with ghost energy, can fuel robots. When Patrick Star and SpongeBob SquarePants deliver a large amount of krabby patties to a house, they are all sucked up and accidentally Patrick is taken along. After selecting a character, players traverse the insides of Professor Calamitous' toy factory to fight evil robot copies of themselves.

The main gameplay element of Nicktoons: Attack of the Toybots is the platforming style which involves actions such as jumping across gaps, balancing on moving terrain and collecting blue energy cubes to use as currency for unlocking more playable Nicktoons characters. Furthermore, the side-scrolling manner of play is broken up by bonus levels which allow the player to take control of a Mech suit used to destroy the Professor's factory. There is also an option for a second player to join at any time for co-operative play.

The game features levels set in different universes based on the franchises of the different characters. For each level and universe, a different set of characters becomes playable.
There are no images in this album yet
In the same series
User Feedback