The Legend of Spyro: Dawn of the Dragon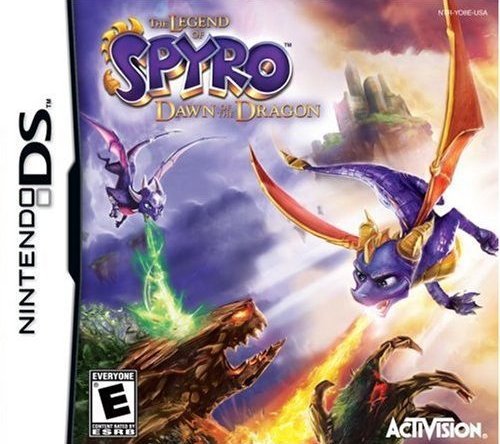 Console : Nintendo DS
Language :

Genre : Action - Platformer
Multiplayer : 1 player
Year : 2008
Developer : Tantalus Media
Publisher : Activision
The Nintendo DS adaptation of The Legend of Spyro: Dawn of the Dragon (the third and final game of the Legend of Spyro trilogy) takes place in the same universe as its home console cousins, except that gameplay is viewed from the side compared to the third-person experience of the other versions.

The gameplay mainly consists of guiding Spyro and Cynder through a variety of platforming levels, defeating monsters along the way using either physical combat or the dragons' unique breath powers. As one dragon is playable on the screen, players can press the L button at any time to switch dragons. As Spyro and Cynder both contain 4 elements each within their breath, players must also press R to switch the breath elements to defeat enemies (who possess both strengths and weaknesses for each element), as well as overcoming several obstacles.

Certain levels also take place in the air. Here players need to fly the dragons (left and right-handed flight controls can be adjusted at any time), using the Nintendo DS stylus to blast enemies along the way.

Gems scattered throughout the levels provide the dragons with energy: Red Gems restore health, Green restores breath power and Blue gives experience points (which provide upgrades for both dragons). Players also need to be on the lookout for several Dragon Masks that extend both Health and Breath bars throughout the adventure.
There are no images in this album yet
---
User Feedback