Dig Dug: Digging Strike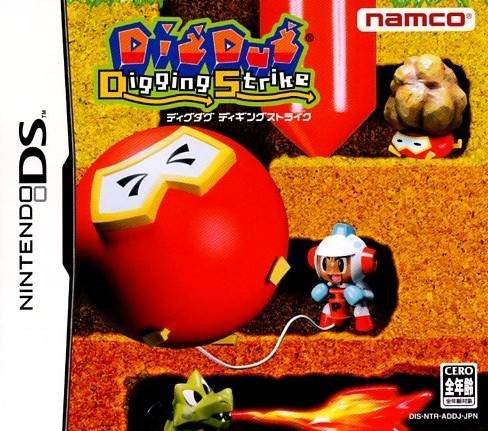 Console : Nintendo DS
Language :

Genre : Action
Multiplayer : 2 players
Year : 2005
Developer : Bullets
Publisher : Namco
Dig Dug: Digging Strike, utilizes the original Dig Dug game and its predecessor, Dig Dug II, placing both elements in the game with the dual-screen technology, placing the original Dig Dug on the bottom screen and the overhead view of Dig Dug II on the top screen.

The goal of the game is to collect weapons and power-ups, defeating enemies and destroying huge enemy bosses. Players dig through the ground to pick up power-ups, but also must stop the bosses from acquiring them as well, as they collect power-ups, they "evolve" into a more dangerous and powerful form. To do this the players must take food and enemies underground to keep them away from the boss.

The player can not only use the drill as a weapon, but also pick up magnets, boxing gloves and bombs among other items to defeated opponents while avoiding obstacles like lava, falling rocks and quicksand. Players can also unlock special levels and items by collecting items called "Fossil Fragments". There are also 15 stages with over 80 areas to explore.
There are no images in this album yet
---
User Feedback