Illvelo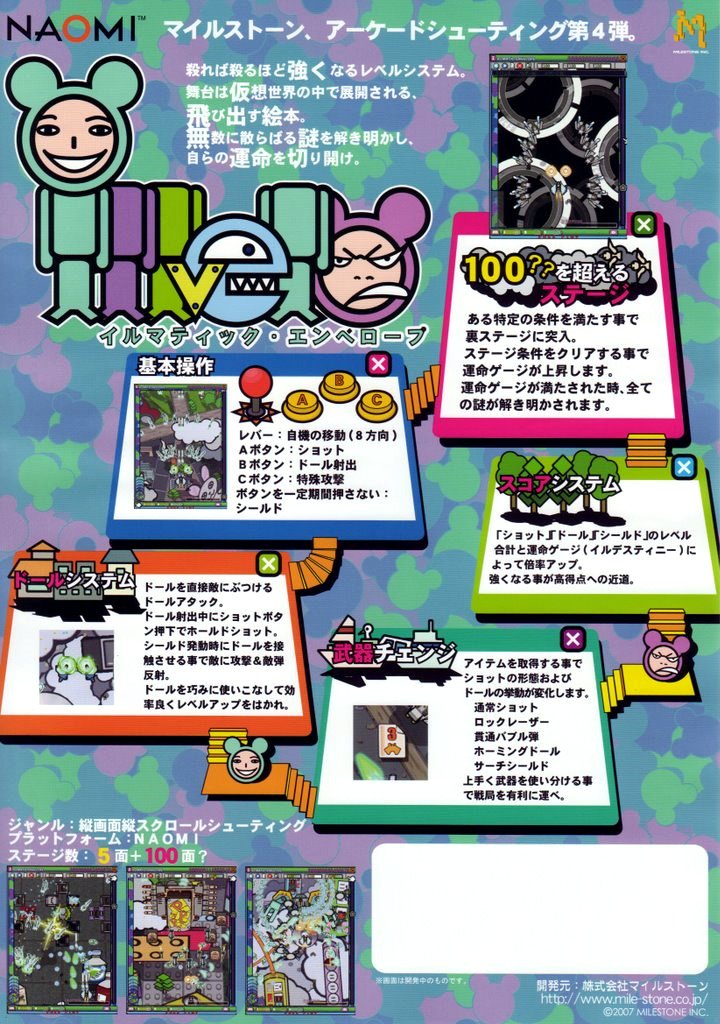 Console : Naomi
Language :

Genre : Shoot'em up
Multiplayer : 2 players
Year : 2008
Developer : MileStone
Publisher : Sega
Trapped inside a computer operating system, the player's ship shoots their way out one stage at a time. Illvelo's distinct system focuses on the player's options (aka support ships). Options normally follow the player's ship like in other shmups. However, when the player presses their second button, the options launch foward and stay at the location they land at. They will continue to fire when the player presses the primary shot button, allowing them to effectively place a stationary attack that can continue to fire bullets in place while the player dodges enemy bullets. Holding down the second button lets the player reposition their option when it's in the field, and tapping it recalls them so that they begin following the player again. Each stage has several warps which suck the player into a bonus stage when they get near. Each bonus stage features a short-but-sweet barrage of enemy ships; defeating them all before they leave rewards the player with a key, and collecting fifty keys by the end of stage 5 unlocks the chance to encounter the true final boss.
Like Milestone's Radirgy series, Illvelo features surreal superflat/pop-art graphics rendered in 3D with cel shading and a techno soundtrack. The game's UI is themed after the fake computer operating system in which it takes place, with a window border and menus at the top of the screen. As the game goes on, an unseen antagonist uses a mouse cursor to click through the menus to spawn enemies or rewards; in between stages, the player sees boot menus, email software, and other applications from the computer they're inside.
There are no images in this album yet
---
User Feedback