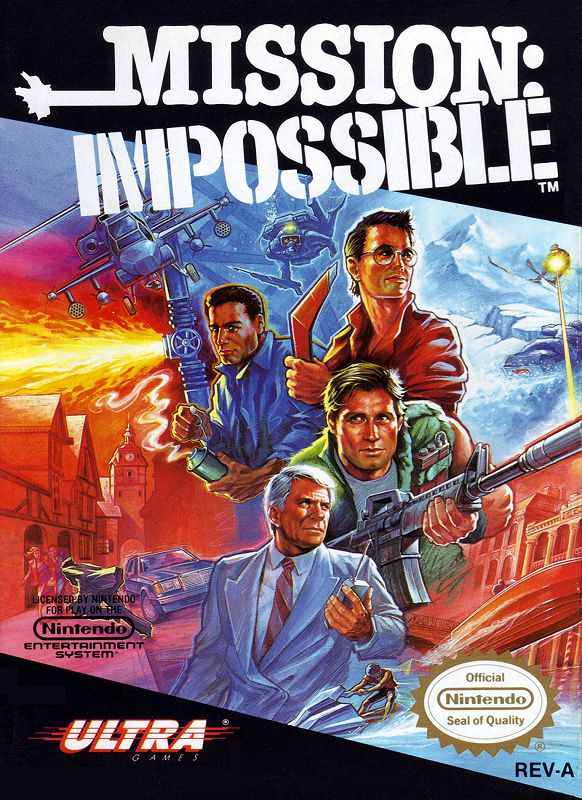 Console : NES
Language :

Multiplayer : 1 player
Year : 1990
Developer : Konami
Publisher : Ultra Software Corporation
Mission: Impossible is a action shooter video game produced by Konami for the Nintendo Entertainment System based on the second Mission: Impossible TV series.
Your mission, if you choose to accept it, is to rescue Dr. O and Shannon from the grubby clutches of the Sinister Seven as quickly as possible. As you fight your way through each area, you must obtain information and vital ID cards. Your progress is blocked at every turn by acid flames, raw sewage, scorching steam, high voltage electricity and poison gas.
You can choose from three agents, Max, Grant and Nicholas, according to the situation at hand. Each is equipped with two types of weapons which can be interchanged according to the surroundings. If an agent's life gauge runs out the next agent in line will take his place. If you complete an area successfully then the knocked-out agents will rejoin the team at the beginning of the next area.
The game is made up of six areas with the first and last consisting of two stages. Two of the areas auto-scroll with all three agents in play at once.
Game files
Mission: Impossible 2019/02/08 161.77KB
There are no images in this album yet
---
User Feedback