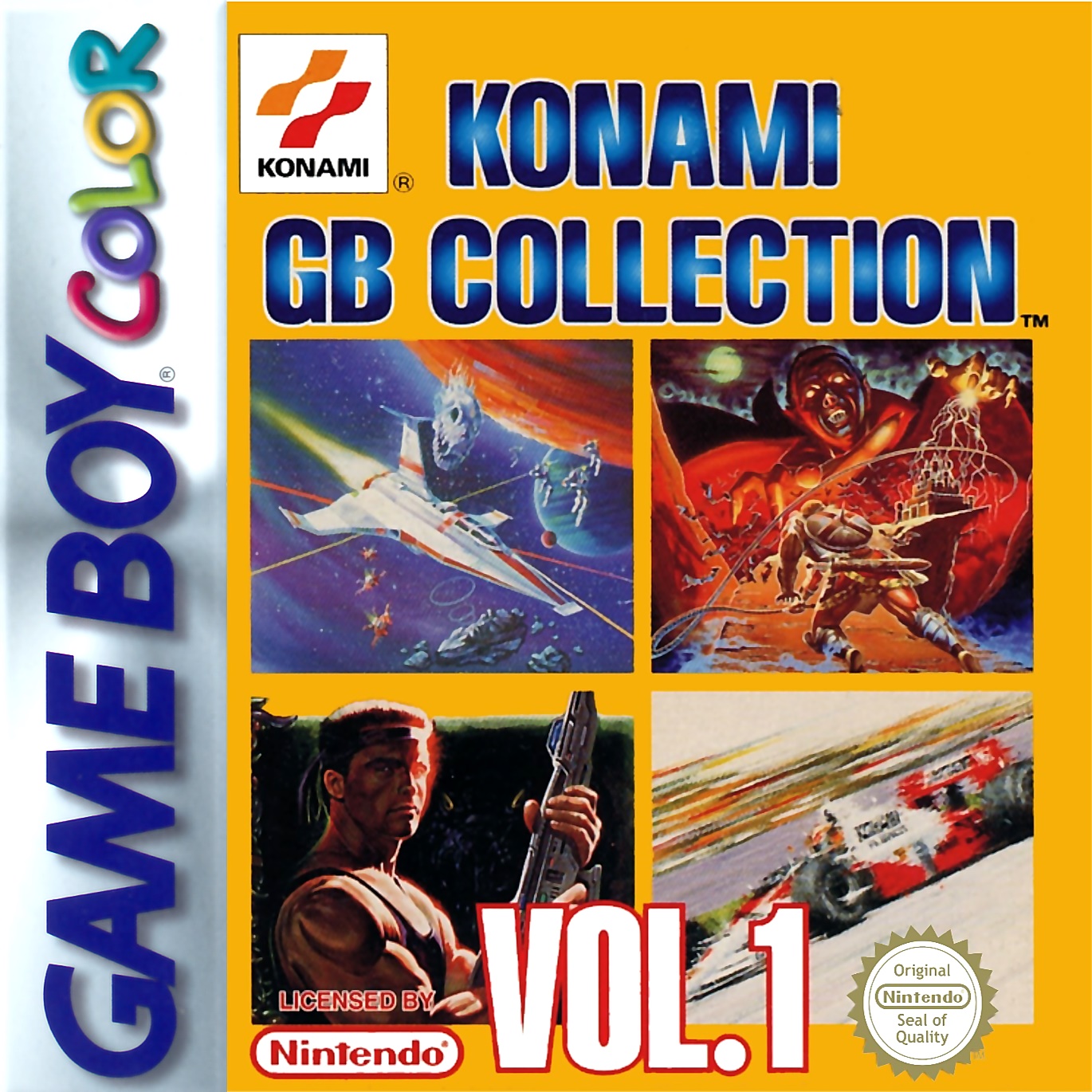 Console : GameBoy Color
Language :

Genre : Compilation
Multiplayer : 1 player
Year : 2000
Developer : Konami
Publisher : Konami
Popularity : 1

This compilation contains four Konami titles on one cart:

- Castlevania: The Adventure : The Count has risen again desiring revenge even more than blood. There are four levels of dungeons, chambers and crypts. At the end of each there is a Primary Evil who is waiting. Your sole weapon is the Mystic Whip which you can use on enemies or candles to unleash hearts, crystals and crosses of gold.

- Gradius (a retitled Nemesis): Nemesis is the first entry in the long-running Gradius series on the Game Boy. Its side-scrolling shoot'em up gameplay follows the series template closely. Players control the Vic Viper through five levels, most based on levels in earlier entries, for a kind of 'greatest hits' of the series. There is a cave level (as in level 1 of the original Gradius), the mandatory Moai stage, a Gigeresque organic level, a graveyard (similar to bonus stages in the MSX and PC Engine version of the original Gradius) and a high-tech base. Besides the classic core ship in the first level, all boss enemies are entirely new.

- Konami Racing: F-1 Spirit is the first portable version of Konami's classic MSX top-down racer. It features three classes of open-wheel cars (which dub as difficulty levels), three game modes (practice, single race and championship) and 25 different tracks all around the world, with some of them only playable on the according championship, from the Japanese Formula 3 to the World F1 Grand Prix. On each class, tracks become longer (forcing pit stops), cars faster, and turns change from simple, low angle corners which require no more than a slight trajectory to elbow corners which require some skill to turn without losing speed.

- Probotector: Operation C is a Game Boy sequel to the popular NES titles Contra and Super C and is, essentially, a side-scrolling shooter. You play a Rambo-esque character that goes around shooting everything in sight, collecting weapon upgrades and bonuses.

Each game is fully compatible with the Game Boy Color and Game Boy.
Game files
Konami GB Collection Vol.1 2018/10/22 343.73KB
There are no images in this album yet
---
User Feedback