GetBackers Dakkanya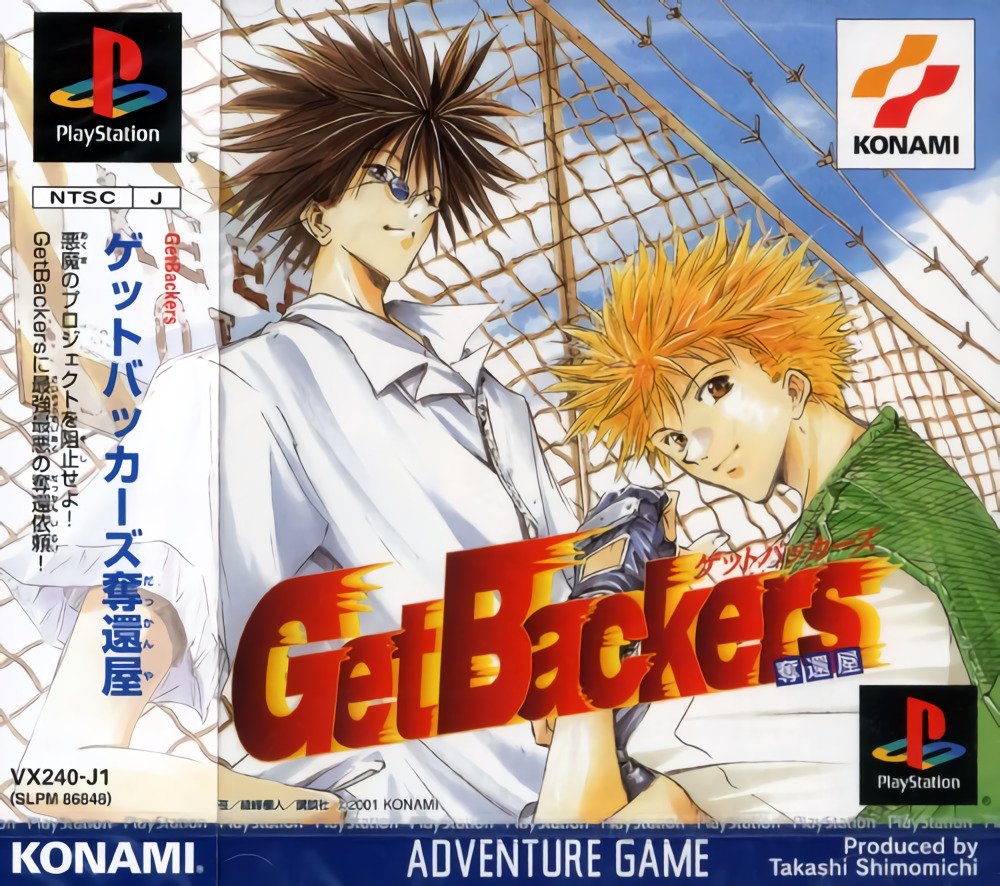 Console : Playstation
Language :

Multiplayer : 2 players
Year : 2001
Developer : Konami
Publisher : Konami
GetBackers is a manga series written by Yuya Aoki and illustrated by Rando Ayamine. The series was serialized and is published by Kodansha's Weekly Shonen Magazine from 1999 until 2007, totaling 39 volumes.

The manga was adapted into an animated television series in 2002. The Studio Deen production aired on the Tokyo Broadcasting System from October 5, 2002 until September 20, 2003, for a complete run of 49 episodes. It was also dubbed in English and broadcast by the anime television network Animax across its respective networks worldwide, including East Asia, Southeast Asia, South Asia, and South America.

The series was licensed for an English-language release in North America by TokyoPop, which released 27 volumes between February 10, 2004 and December 2, 2008. It has since lost the license to the property, and all existing releases are considered to be out-of-print.

The series tells the story of Ginji Amano and Ban Mido, a pair of superpowered individuals known as the GetBackers. The duo operates a freelance repossession service out of one of the seedier areas of Shinjuku, Tokyo. For a fee, they will recover any lost or stolen item for a client with "a 100% success rate". The GetBackers' job often leads them into bizarre and dangerous situations in order to "get back what shouldn't be gone". Their targets range from lost video games to misplaced components of an atomic bomb. The plot mostly revolves around their adventures, often complicated by the pair's convoluted, individual pasts and a mysterious place known as the Limitless Fortress.

A conglomeration of disused, condemned buildings clustered together to form a self-contained habitat, Limitless Fortress is subdivided into three specific tiers – Lower Town, the Beltline and Babylon City. Lower Town is the lowest in altitude, with several layers extending below ground level. The Beltline, the most dangerous area of The Limitless Fortress, is ruled by Der Kaiser, Ban's father. The citizens of the Beltline are said to be immortal and imperishable, and they "will rise back from the dead everytime they are attacked". Those in the Beltline have a hideous death-like appearance and a frightening strength.[citation needed] Babylon City, the upper most level of the Limitless Fortress, is said to be where the Brain Trust resides, and is the home of Ginji's mother. In actuality, Babylon City is what one might consider the real world, with everything else being a virtual reality creation. Only those who have won the Ogre Battle may enter Babylon City and when that happens, they can change the world as they see fit.
There are no images in this album yet
---
User Feedback