GetBackers Dakkanya: Dakkandayo! Zenin Shuugou!!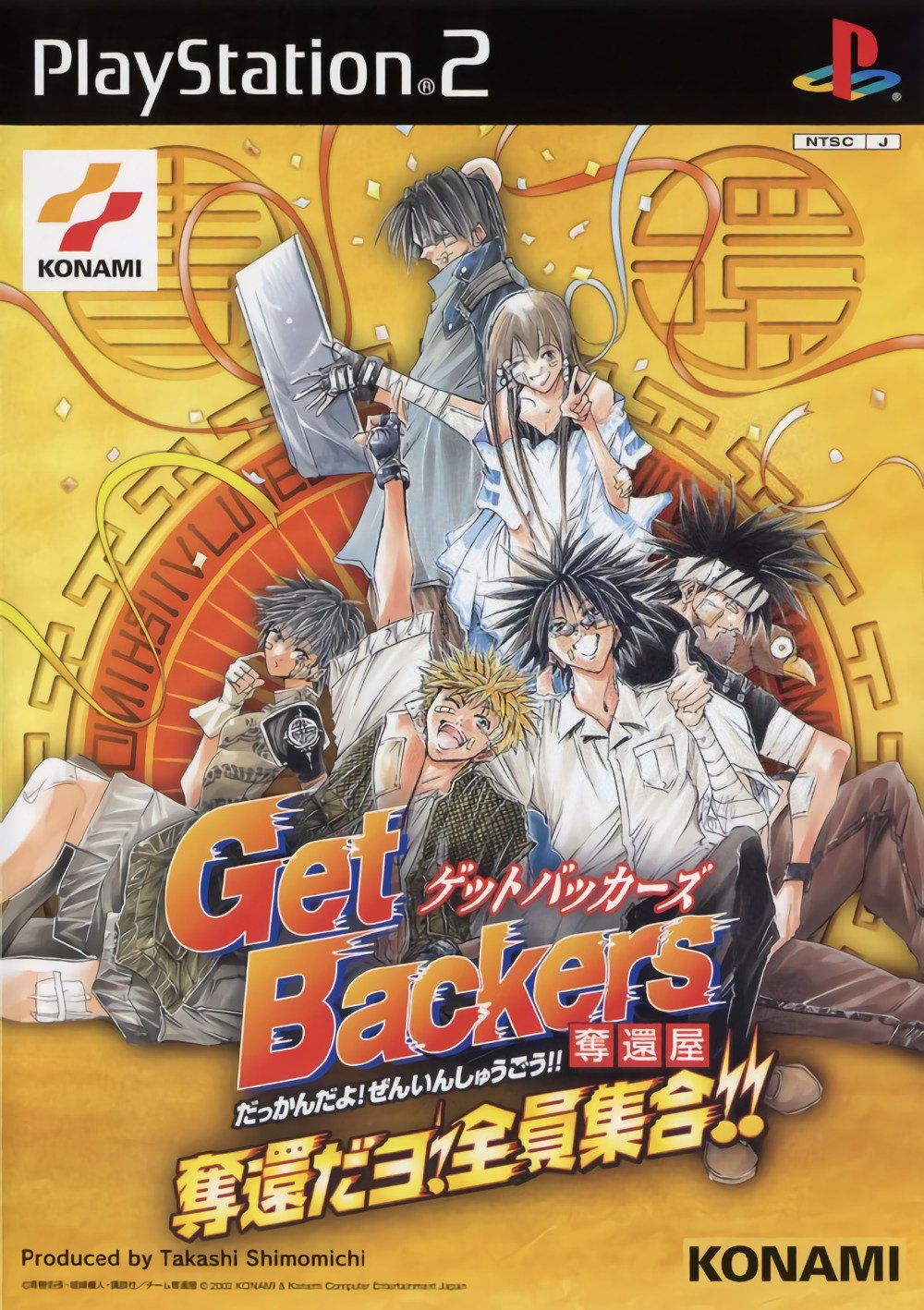 Console : Playstation 2
Language :

Genre : Beat'em up
Multiplayer : 2 players
Year : 2003
Developer : Konami
Publisher : Konami
GetBackers is a Japanese manga series written by Yuya Aoki and illustrated by Rando Ayamine. The series was serialized and is published by Kodansha's Weekly Shonen Magazine from 1999 until 2007, totaling 39 volumes. The plot follows the "GetBackers", a group that retrieves anything that was lost. The team is primarily composed of Ban Mido, a man born with the illusionary technique "Evil Eye", and Ginji Amano the former leader of a gang called "The VOLTS", a powerful group in the dangerous territory called the Infinity Fortress in Shinjuku.
The series tells the story of Ginji Amano and Ban Mido, a pair of super powered individuals known as the "GetBackers". The duo operates a freelance repossession service out of one of the seedier areas of Shinjuku, Tokyo. For a fee, they will recover any lost or stolen item for a client with "an almost 100% success rate". The GetBackers' job often leads them into bizarre and dangerous situations in order to "get back what shouldn't be gone". Their targets range from lost video games to misplaced components of an atomic bomb. The plot mostly revolves around their adventures, often complicated by the pair's convoluted, individual pasts and a mysterious place known as the Infinity Fortress.
GetBackers Dakkanya: Dakkandayo! Zenin Shuugou!!: The Get Backers team consisting of Midou Ban and Amano Ginji star in a cel-shaded side-scrolling action game where the boys use their fighting skills and special attacks to take on various retrieval missions and the attendant general goon bashing. When backed into a corner, Midou Ban uses his snake bite move to powerful effect while Ginji throws streams of electrical force to beat back the odds.
In addition to the dynamic duo, four other characters from the anime may be chosen as your onscreen protagonist. Similar to old school games where armies of foes run into your punches and kicks, Get Backers takes the heroes through their paces and ends each level with a boss who does special attacks and generally lasts longer than his underlings.
There are no images in this album yet
---
User Feedback