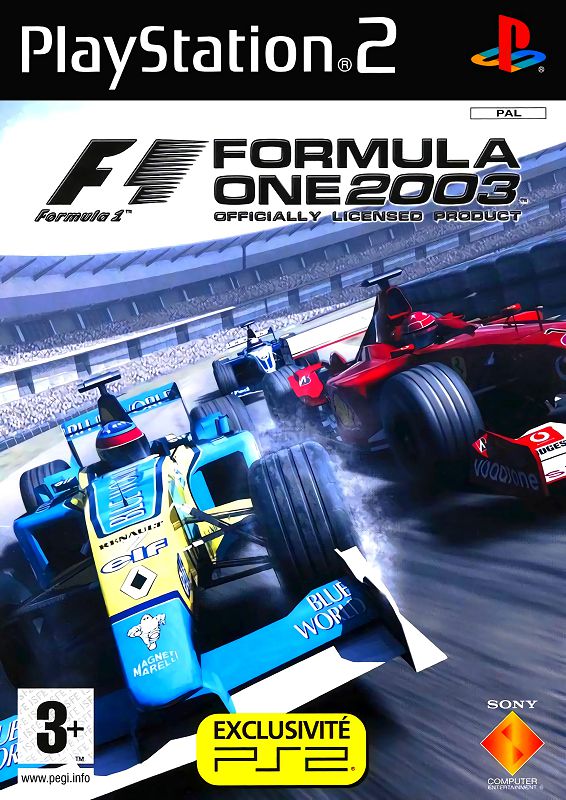 This game is an officially licensed product of the FIA Formula One 2003 championship. It features all the drivers, tracks (including changes), teams and the new qualifying rules and point tables. You can fine-tune almost every aspect of the chosen car to create the best setup for the current track. You can set gear ratios, set front and rear air foils/wings etc etc. This time around, you can also set the brake bias
Following hot on the heels of the mighty Formula One 2002, Formula One 2003 continues to refine the experience, and makes for the finest Grand Prix simulation yet seen on PlayStation 2. Now totally exclusive to PS2, the latest instalment features all the 2003 season liveries on the cars, correct driver rosters and even the track alterations that have been made to the Hungaroring and Suzuka circuits.
You'll also find that all the new rules and regulations that have been introduced to the sport--and made this season arguably the most thrilling for both spectators and drivers for many years--have been implemented, such as the one-shot Friday and Saturday qualifying laps. With an extremely strong engine already in place, developer Studio Liverpool has been able to turbo charge everything from the visuals to the AI of your rival drivers. Whether you're after pure white-knuckle arcade excitement or something a little more in-depth and realistic, Formula One 2003 has everything you could possibly wish for.
Features:
- Official game of the FIA Formula One World Championship
- Includes exclusive 2003 season data
- Incorporates new qualifying rules
- Commentary from James Allen and Martin Brundle
- Diverse game modes cater for novices and experts
- Multiple car setup options
- Improved AI, dynamics, car and track models and more
- For 1-2 players (1-4 in Hot Seat mode)
Game files
Formula One 2003 2018/11/12 1.12GB
There are no images in this album yet
---
User Feedback