Battle Grand Prix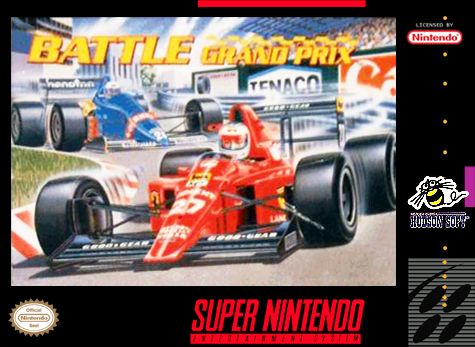 Console : Super Nintendo
Language :

Genre : Racing
Multiplayer : 2 players
Year : 1993
Developer : Kid
Publisher : Hudson Soft
Weekly games : 1

Battle Grand Prix was one of the best racing games to ever come out on the SNES. It had the one ingredient that a game in this genre needs, and that is to be fun to play.

Graphically, this game is not up to par with other hits such as Mario Kart, but it still looks decent enough. Each of the different team cars have different color schemes, which gives you the feel of being in a unique car. The courses also vary from blacktop to concrete, which lends to the feeling of driving in unique places. They even have rain, and the tires spray water behind them which was realistic for the time.

The controls are easy to learn and pick up. It is as simple as pressing one button to accelerate and the left and right buttons on the control pad to steer. The cars control differently in rain; they become a little more sluggish until you go into the pits and have your tires changed. There was only one minor detail that gets frustrating; which is the fact that you can not back up. If you go off the track, you will probably end up hitting something and in the need of having your car repaired in the pits. Otherwise you will have no problem with the controls.

The sound in this game is the area in which it is lacking. The music is bad, and the whir of the motors you can only tolerate so long before you want to mute the T.V. However, who buys a racing game for its music anyways?

The game features different modes and gradually harder difficulty settings. Grand Prix mode is the most fun. You compete with fifteen other racers on the track, where you earn points. these points are cumulative, and continue to build up. In the end the racer with the most points wins. Each difficulty has more races and harder tracks to build up more points. You can also play this mode with a friend for some more competition. The harder the mode the more chance of a big wreck. Wrecks in this game are often big and sometimes can cause you to be retired out of a race.
There are no images in this album yet
---
User Feedback