Zoids - Jashin Fukkatsu! Genobreaker Hen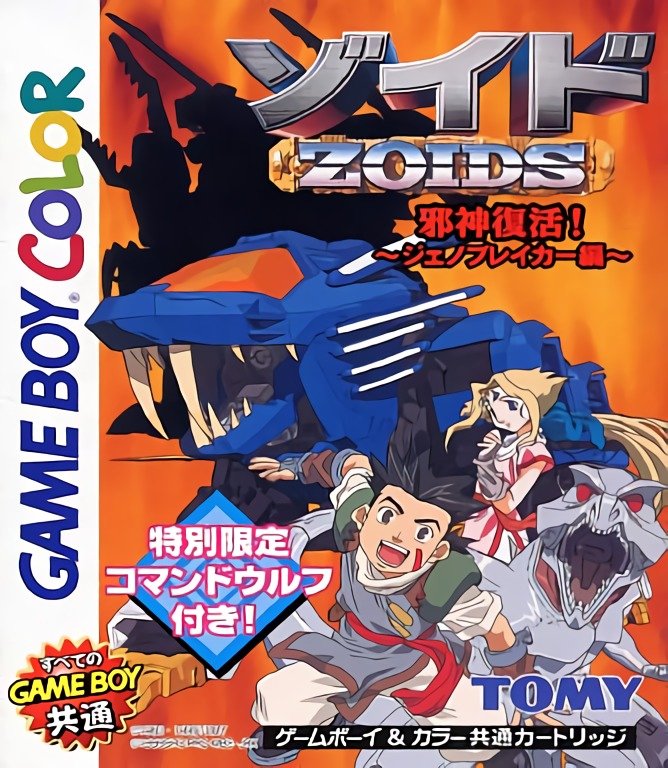 Console : GameBoy Color
Language :

Genre : RPG
Multiplayer : 1 player
Year : 2000
Developer : Will
Publisher : Tomy Corporation
Zoids - Jashin Fukkatsu! Genobreaker Hen is a Game Boy and Game Boy Color game, originally released in August, 2000. Like other hybrid regular/color cartridges, it plays in black and white in an original Game Boy, and in limited color in a Game Boy Color.

The first run of the game included a red command Wolf model, recolored in Guylos style. The second included one in midnight blue. Both Zoids' boxes mention the game on them; besides the Japanese text identifying which Wolf is inside, they can be distinguished by color (the red Wolf comes in a blue box, the midnight blue in a black box). The game is easily found separately secondhand, possibly thanks to people buying it to obtain the limited Wolves.

Genobreaker Story is set during the time between Chaotic Century and Guardian Force, though aside from featuring its cast of characters it has little connection to the anime. Instead, it features Van telling of his time at home after Prozen's defeat, and of a tragedy that came about because of the war.

Combat is turn-based, and aside from bosses consists of random encounters (and the rate for these is quite high, leading to one of the more common complaints about the game). The player forms a team of Zoids up to a certain size limit, with Zoids divided only into small, medium, and large. Turn order is determined by a number of factors among all Zoids present, with flying Zoids most often attacking first.

Zoids' moves can be customized. Besides each Zoid having part slots similar to Zoids Saga, parts are divided into categories: assault (melee), gun, missile, radar, cannon, and extra (healing or other status effects). Unique parts learn different attacks using skill points earned in combat, and all attacks for a category are shared among any parts the Zoid has that match. For example, if you equipped an Iguan with a charged particle cannon and taught it Judgment, the Iguan's other laser-based guns would now be able to use Judgment. Combined with eight move "slots", this allows for two examples of a Zoid to be very different.
There are no images in this album yet
---
User Feedback