Yie Ar Kung-Fu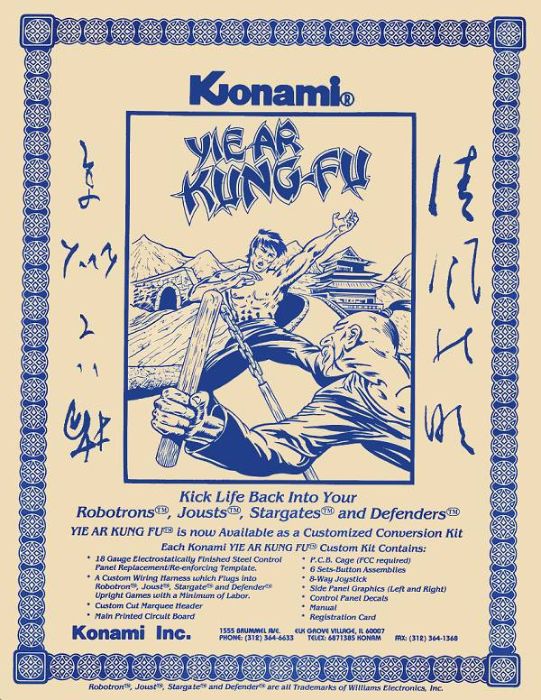 Console : Arcade
Language :

Genre : Fighting
Multiplayer : 2 players
Year : 1985
Developer : Konami
Weekly games : 1

A classic one-on-one fighting game; "Yie Ar Kung-fu" pits a single player against a procession of distinctive, and often armed opponents. While somewhat limited in gameplay terms, "Yie Ar Kung-Fu" introduced a major innovation to the beat-em-up genre as it was the first one-on-one fighter to offer a progression of truly different opponents for the player to defeat. This is something that would later be adopted by Capcom for its legendary "Street Fighter" series; as well as SNK and countless others. Many of Yie Ar's eleven opponents are armed with a wide variety of weapons, such as a nunchuks, throwing stars, a chain, a sword and a club.
Yie Ar Kung-Fu is a game of reflexes and as such plays incredibly quickly, with the player having to be constantly on the move to avoid getting 'pegged in' by some of the game's tougher opponents. The first five fights take place in front of an animated waterfall, while the remaining six have the player battling in front of a picturesque, oriental pagoda. There is no time limit set in which the opponent must be defeated and the player's character, Oolong, possesses a finite amount of health per stage. Should the player's health bar be fully depleted, the match is lost.
There are no images in this album yet
Related videos
---
User Feedback