Total Annihilation
Download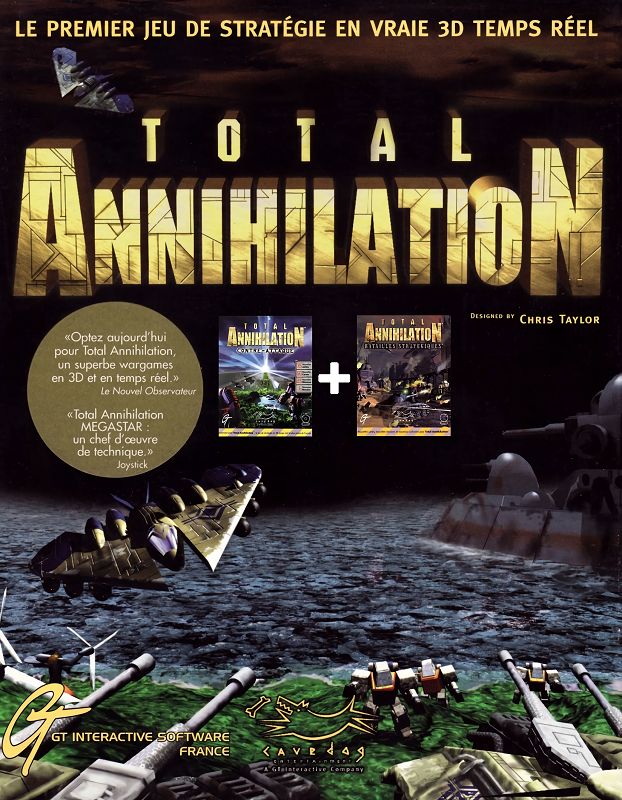 Console : PC
Language :

Genre : Strategy
Multiplayer : 10 players
Year : 1997
Developer : Cavedog Entertainment
Publisher : GT Interactive Software Corp.
Popularity : 6

It is 4000 years in the future, and the epic battle between the Arm and the Core has devastated the galaxy. Both sides fight on with super-advanced technology, from plasma guns to giant robots to sonar jammers. The only acceptable outcome is total victory.
You, as the Commander of either Arm or Core, must build up your base to destroy the other side, in a game developing the ideas of Command & Conquer. Unlike earlier titles in the genre, it uses a 3D world in which elevation changes have an effect.
Mission objectives range from taking out specific targets to rescuing hostages to capturing the enemy base and using it in the next mission. Usually you must construct a base, although in some missions you lead an attacking force.
Unlike other strategy games, however, you start out with the Commander, the game's most powerful unit, and must defend him at all costs. Resource collection is very quick and easy, since a single unit can extract metal indefinitely from a mine without ever having to return to your base, while options for producing energy include solar power, wind power, hydroelectric power, geothermal power, and fusion power.
---

Tips :
This game comes with its 2 expansion called "Total Annihilation : The Core Contingency" and "Total Annihilation : Battle Tactics".

- "Total Annihilation: Counterattack" adds a mission editor, two new solo campaigns with 15 missions each, and new units.

- "Total Annihilation: Strategic Battles" adds a few units, some new multiplayer maps, among other things. It proposes missions different from the usual triptych "armed construction of offensive, battle!".
---
Retour utilisateur